Understand the impact of all your efforts...
Create meaningful reports to measure performance and get recommendations to grow your reach, engagement, and sales.
LEARN MORE
SEE HOW IT WORKS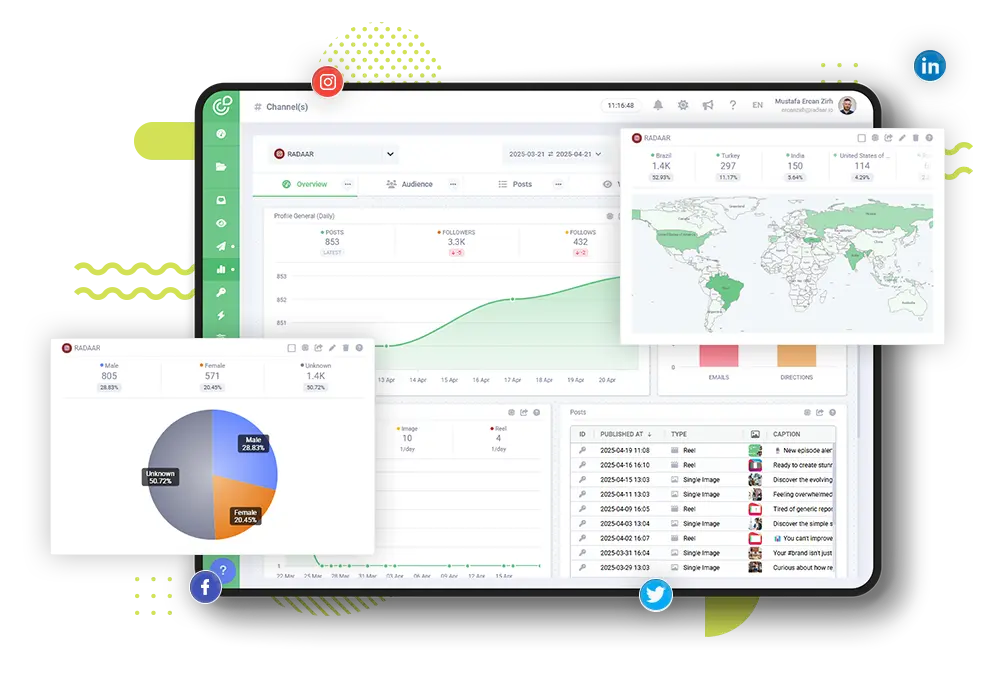 CUSTOMIZABLE REPORTS
Measure the metrics that matter for your brand...
Take advantage of unlimited dashboards. Build custom reports specific to your business needs by adding, resizing, and reordering pre-built widgets.
TRY IT FOR FREE
Get in-depth insights...
Get insights into your audience's perceptions and demographics to grow your brand on social media.
FREQUENTLY ASKED QUESTIONS
Frequently Asked Questions
Create meaningful reports and find out what's working.
The analytics feature is a tool that allows you to analyze, manage, and measure the success of all your digital assets and contents.
You can create as many boards as you need and delete the ones you don't use. Your boards are yours to customize. Create and customize boards from pre-built widgets.
No. Open as many boards and add as many widgets as you need; there are no limits.
You can use the analytics feature to measure the overall performance of your social media activity across multiple social networks. The analytics feature measures organic, owned, and earned metrics on Facebook, Instagram, Twitter, and LinkedIn.
Widgets are the bread and butter of the analytics feature. These widgets provide visualization of your data and trends, allowing you to report on how your business is performing. You can add as many widgets as you need to a board.
The analytics feature offers a great collection of free and paid widgets.
PRODUCT TRAINING
Let us show you how...
Watch our product training video and start using the analytics feature with your team.
WATCH NOW