Boost your brand awareness with Instagram marketing...
Instagram is an excellent way to expand your brand's reach and engagement with your customers. 70% of customers check Instagram for their next purchase. So, when it comes to planning content and engaging with your community on Instagram, RADAAR can help you save time.
LEARN MORE
SEE HOW IT WORKS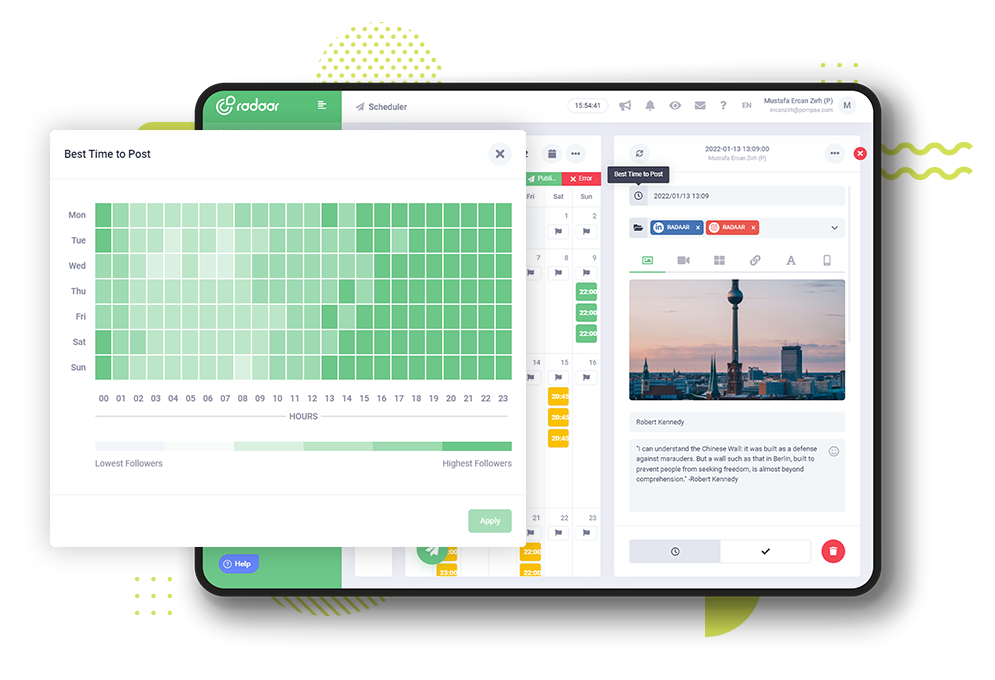 INSTAGRAM STORY PUBLISHING
You can now directly post Instagram Stories via RADAAR!
Create your Story content, then schedule it to go live at your preferred time. That's it! Your story will be automatically published on Instagram. So, what are you waiting for?
WATCH NOW
FEATURES
Streamline the way you handle your Instagram business account...
RADAAR comes with all the features you need, including Social Media Scheduler, Social Media Inbox, Social Media Monitoring, and Analytics. Here's what you get with RADAAR...
CANVA INTEGRATION
Create high-quality content for your feed with Canva...
Get a jump start on bringing your finest ideas to life using Canva's professional templates, photos, and quality content, then publish it with RADAAR.
LEARN MORE
HASHTAG MANAGER
Create several hashtag lists for different types of content...
To get your brand in front of more people, use RADAAR's Hashtag Manager to search, find, and create templates for new hashtags.
LEARN MORE
FREQUENTLY ASKED QUESTIONS
Everything you need to know about Instagram marketing for business...
You now have a better understanding of what Instagram marketing is about. If you still have questions regarding Instagram, take a look at the FAQs we've put up.
Instagram is a mobile app that allows users to edit and submit photographs and short videos. It is a free online photo-sharing application and social networking platform.
An Instagram business profile grants you access to promoted posts and Instagram advertisements, as well as other features to help you expand your reach and engagement.
It's simple to convert an Instagram account to a business account if you already have one. You'll create a personal account and then convert it to a business profile if you don't already have one.
Instagram marketing is a type of social media marketing that involves using Instagram to promote a brand. This social media platform assists businesses in connecting with a large audience, raising brand exposure, and increasing sales.
Between posts, ads and stories, there's no shortage of potential small business marketing tools on Instagram.
Open your Instagram account, go to Settings / Account, and then tap Switch to Personal Account.
PRODUCT TRAINING
How to customize your caption?
If you need to differentiate the caption of a content you have prepared for sharing according to social media profiles, you can take advantage of RADAAR's Caption Variations feature.
WATCH NOW
RELATED BLOG POSTS
All the tips & tricks you'll need...
Get the fresh tips and tricks you'll need to ace social media marketing.