Reach the right audience for your business!
LinkedIn is a great tool for expanding your network, meeting professionals in your market, attracting employee attention through your posts, and promoting your business to stakeholders. With LinkedIn, the business pillar of social media, you can achieve the best results!
LEARN MORE
SEE HOW IT WORKS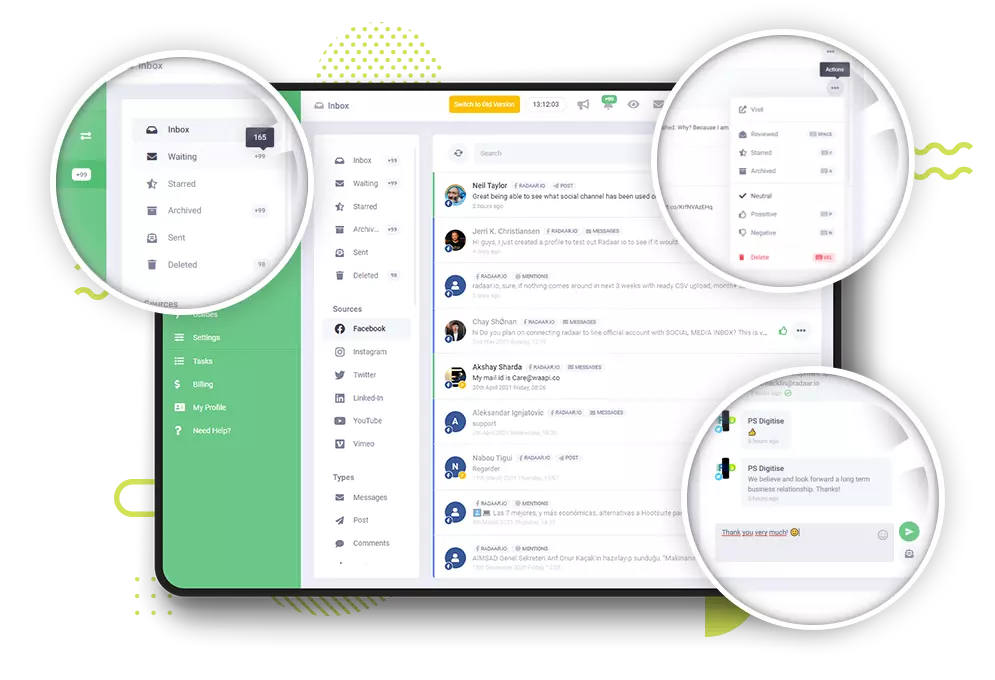 CREATE MORE IMPACT
Create genuine connections for your business...
Manage your LinkedIn Company Page by efficiently planning all your content in advance on a single dashboard and manage incoming comments in one place!
TRY IT FOR FREE
FEATURES
Manage your LinkedIn Company Page from single dashboard...
Manage your LinkedIn Company Page by planning and posting engaging content, interacting with customers in real time, and tracking your performance with RADAAR.
POST PREVIEW
See through the eyes of your audience...
As you know, every detail is crucial when you post on social media. So preview your post for each social media profile you've selected while you are preparing.
LEARN MORE
STOCK LIBRARY
Another great feature that helps you to save time!
You don't have to use visuals every time you say something on social media but remember that visual posts are getting 650% higher engagement. The Stock Library is here for you to easily find the images and GIFs you're looking for.
LEARN MORE
FREQUENTLY ASKED QUESTIONS
Everything to make the LinkedIn Company Page the most efficient for your business...
If you still have questions about how to use LinkedIn for your brand, don't forget to check the FAQs!
Individual corporations, organizations, and institutions have their own LinkedIn Company Pages. Members can use LinkedIn to learn about and connect with specific organizations, as well as their brands, products or services, and open positions.
Go to Add a Company from the Company Pages Home and enter your nonprofit organization's name. Then you are asked to create one. If you go to your Work Experience on your Personal Profile and see a logo next to your nonprofit's name, it means your page has already been claimed. And remember you can not use Gmail or Yahoo! for your Company Page. It must be an email address connected to your nonprofit's name.
3rd-degree connections are the people who are connected to your 2nd-degree connections. You'll see a 3rd degree icon next to their name and on their profile.
First, you need to log into your LinkedIn account. Take it to the "me" icon in the corner and view your profile. Now click on the job you want to edit and tap the pencil icon. Start editing and adding information about your promotion!
LinkedIn Learning offers a few options for paying for its courses. You can pay for an individual course with pricing varying from $20 to $50
InMail messages is a premium feature, and it allows you to directly message another LinkedIn member that you're not connected to. If you have a Basic account, you can only directly message LinkedIn members that you're connected to.
PRODUCT TRAINING
How to use the Content Copilot?
The Content Copilot is a real swiss army knife with many features such as Content Score, Post Preview, Content Library, Stock Library, Hashtag Manager and RSS Feeds integration!
WATCH NOW
RELATED BLOG POSTS
All the tips & tricks you'll need...
Get the fresh tips and tricks you'll need to ace social media marketing.