A more user-friendly way to manage your YouTube channel...
You want to get into the YouTube game but don't know where to begin? YouTube marketing is the newest way for getting your brand or product noticed. With RADAAR, you can simplify every element of your YouTube workflow.
LEARN MORE
SEE HOW IT WORKS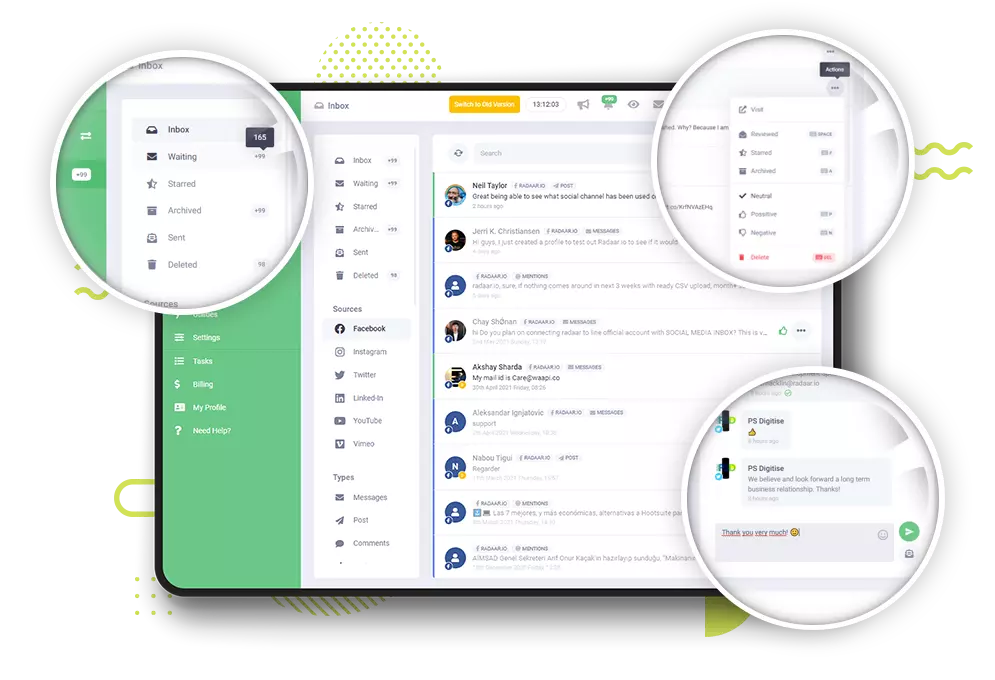 INCREASE YOUR REACH
Watch as your content reaches a larger audience than before!
Use RADAAR to work as a team, which allows you to manage your YouTube channels from a single dashboard. Along with your teammates, keep an eye on YouTube activity, moderate comments, and share high fives.
TRY IT FOR FREE
FEATURES
View, reply, delete, and more...
RADAAR makes every part of your YouTube workflow easier! What are you waiting for? Discover our key features!
YOUTUBE SHORTS
Get started with YouTube Shorts...
Our Scheduler feature allows you to schedule YouTube Shorts for you to pick a time when they go live.
LEARN MORE
HASHTAG MANAGER
Increase the visibility of your YouTube content...
Use the Hashtag Manager to search, find and save templates of hashtags from getting your content in front of more people.
LEARN MORE
BEST TIME TO POST
Publish your content at the exact time...
You can share your content during high-traffic hours to increase your chances of capturing your audience's fleeting attention.
LEARN MORE
FREQUENTLY ASKED QUESTIONS
Everything you should know about Youtube...
Still have questions about Youtube? Check out the FAQ's that we've prepared just for you...
You need to create an account. Sign in to YouTube, click on your profile and select create a channel. Fill out the details for your new channel and you are good to go!
To get paid by YouTube, you must first accumulate a balance of $100 or more in views. This means you'll need to garner 20,000 views if you receive $5 per 1,000 views. YouTube launched the YouTube Partner Program to make this possible, which allows you to earn money by displaying adverts on your page.
A YouTuber is someone who creates material for the online video platform YouTube. Some people engage in it as a hobby in order to network, share their knowledge, and have fun. Others use it as a full-time career that covers all of their expenses.
It's completely free to start a YouTube channel for anyone.
YouTube is a video-sharing platform that allows users to watch, enjoy, share, comment on, and create their own videos.
With a Google Account, you can view videos, like them, and subscribe to channels on YouTube. You do not, however, have a public presence on YouTube without a YouTube channel.
PRODUCT TRAINING
How to connect a YouTube Channel?
Visually plan your content, publish automatically, engage followers, and track brand-related keywords in collaboration with your team and clients.
WATCH NOW
RELATED BLOG POSTS
All the tips & tricks you'll need...
Get the fresh tips and tricks you'll need to ace social media marketing.