Plan a winning marketing strategy with RADAAR and TikTok...
You might be curious about TikTok, but can also concerned because it's not like other social media platforms. However, TikTok can be a fantastic marketing tool for your business. Remember that short videos have a great deal of value these days!
LEARN MORE
SEE HOW IT WORKS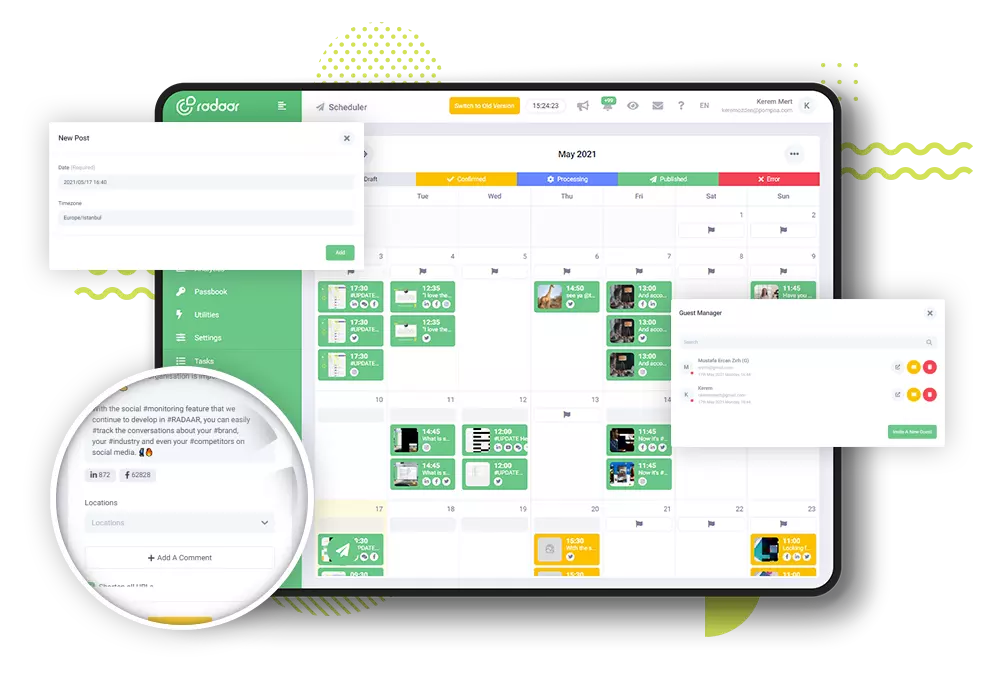 SHORT VIDEOS
Meet the most unusual way to promote your brand...
Discover the TikTok scheduling tool you've been waiting for with RADAAR! With these features, you can find the best time to post, plan and publish your TikTok videos that will go viral.
TRY IT FOR FREE
FEATURES
Know what you can do on TikTok with RADAAR...
You can plan and publish your content through RADAAR while learning your best time to post on TikTok and keep your audiences watching your going viral videos!
FREQUENTLY ASKED QUESTIONS
Everything you need to know about managing your TikTok profile...
If you have any more questions about how to use TikTok more effectively and how to go viral, check the FAQs!
Go to your profile page by tapping the Me icon. Select Edit profile and click the Name. Finally type in your new name. But remember, you can only change your TikTok username once a month.
If you have 'ratioed' on TikTok, it means that your comment has more replies than it has likes. This usually implies that there are more people disagreeing with your comment than there are people agreeing with it.
All you have to do is open the app and visit your profile. Tap the video that you want to delete and you will see three little dots in the bottom-right corner. Click the Delete button and you delete it.
First, tap the create icon to access the LIVE screen. Swipe to LIVE in the navigation, pick an image, and write a title for your stream. Once you're all done, press Go LIVE to start your stream.
Go to your profile and tap the three lines in the top right corner, which should open the Settings and privacy screen. And there, you should go to Manage account and then Delete account.
Here's a few tips: Add hashtags to your videos, keep your videos short, follow the trends and use trending sound effects, find your specific audience, dabble in some duets, promote your TikTok content on your other social channels and do not forget to find best time to post your content.
PRODUCT TRAINING
How to connect a TikTok user?
Plan your content, collaborate, and publish automatically to save your time.
WATCH NOW
RELATED BLOG POSTS
All the tips & tricks you'll need...
Get the fresh tips and tricks you'll need to ace social media marketing.