Unify all messages into a single inbox...
Bring all your conversations into one place and take better care of your audience while empowering team collaboration.
LEARN MORE
SEE HOW IT WORKS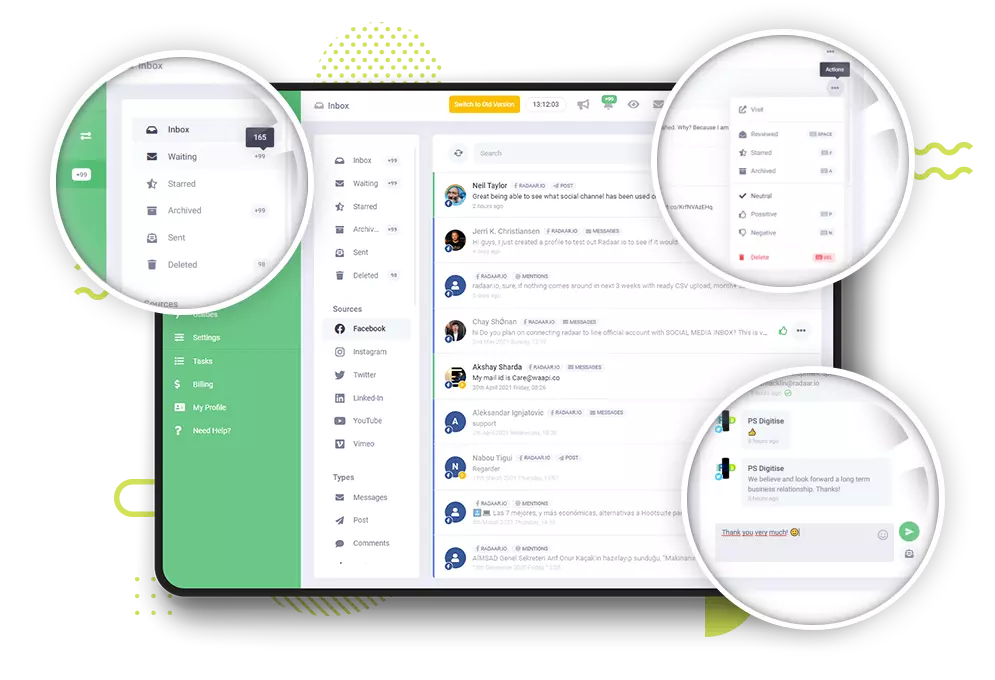 ENGAGEMENT
Never miss a single message...
Manage all your incoming messages from one collaborative inbox to build a close connection with your audience.
TRY IT FOR FREE
Reply, like, hide or delete...
Stay a step ahead, never miss a single opportunity, and save up to 66% of your time.
More features to increase your efficiency...
Here's a peek into some of our special features that make community management easier for you.
FREQUENTLY ASKED QUESTIONS
Frequently Asked Questions
Build a close relation with your audience with faster response times.
The social inbox is a unified inbox of all of your social media channels messages. It allows you to see and engage in all your social conversations, mentions, comments, and messages in one place so that you can deliver responses quickly and keep your community happy.
RADAAR lets you connect Facebook (pages), Instagram (business accounts), Twitter, and LinkedIn (company pages) with its engagement features. For now, Instagram direct messages aren't supported by the Instagram API. Only Instagram comments will appear in your inbox.
Yes. You can easily export all your incoming messages in Excel or CSV format.
The social inbox helps you engage with your audience across social channels by displaying all messages in one place. Also, for teams scattered across various locations, divisions, and time zones, it's crucial to have a social inbox. With the help of the mobile application it allows you to review and respond to your inbox items on your smart phone.
You can archive or delete conversations from your inbox. If someone replies to a conversation that you've archived, the messages will appear again in your inbox. Also, the starred conversation feature allows you to bookmark specific conversations so that you can quickly refer back to them later.
Yes. You can measure incoming conversations and messages per platform, sentiments (positive/neutral/negative), and number of handled messages.
Learn more.
PRODUCT TRAINING
Let us show you how...
Watch our product training video and start using the conversations feature with your team.
WATCH NOW