The easiest way to secure your passwords...
Store your passwords and logins and access them anywhere with your team.
LEARN MORE
SEE HOW IT WORKS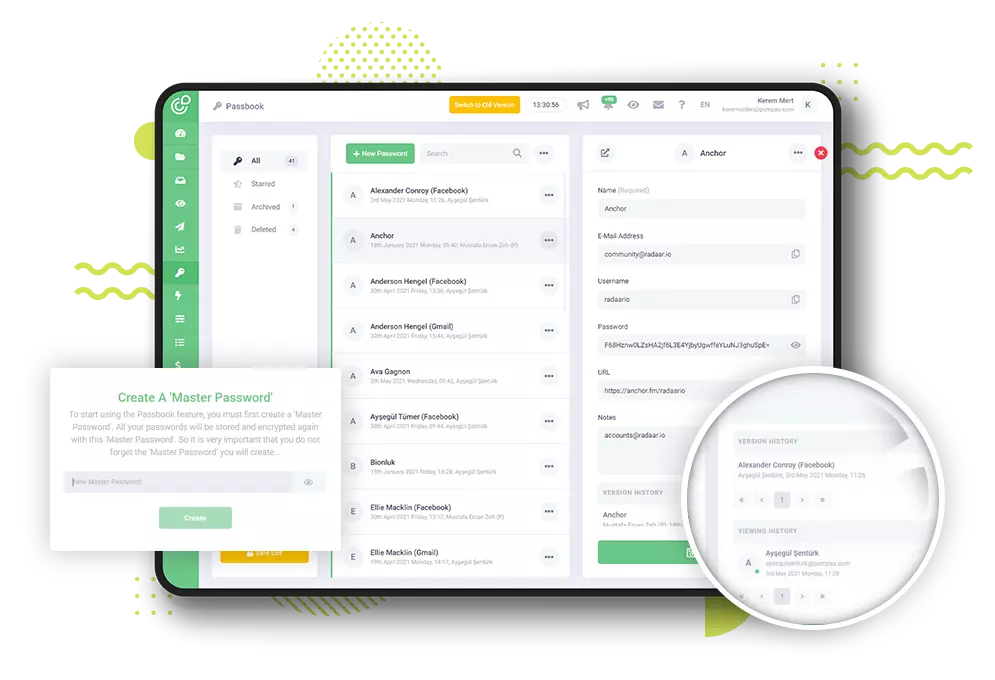 CROSS-PLATFORM
From any location, browser and device...
Store an unlimited number of password and access them from anywhere with your team.
TRY IT FOR FREE
Simplify your password management...
Store all of your passwords in a secure place, collaborate with colleagues, track all changes, and view activity logs.
Easy to generate, store, and secure...
Here's a peek into some of our special features that make password management easier for you.
FREQUENTLY ASKED QUESTIONS
Frequently Asked Questions
Store your passwords in a single place and share them across team members with ease.
A password manager is a software program that keeps a number of passwords in a secure digital location. A password manager is also often called a password vault.
RADAAR provides a zero-knowledge password management solution. This means all information that is stored in RADAAR is only accessible by you. All encryption and decryption is done on the fly on your device and the data are encrypted both in transit (TLS) and at rest on our infrastructure (AES-256).
Password managers are the safest way to keep track of your passwords, as they allow you to use stronger passwords without needing to memorize anything. Security experts generally recommend using password managers to keep your passwords. A password manager can make your digital life both simpler and more secure.
Yes. Our password manager feature is designed to meet the requirements of every team. You can securely share your passwords with your colleagues without worries.
Yes, the password manager feature is free for all users.
Learn more.
PRODUCT TRAINING
Let us show you how...
Watch our product training video and start using the password manager feature with your team.
WATCH NOW