Publish your content at the right time...
By using Best Time to Post feature you can share your content during the high-traffic times to maximize the odds of catching your audience's fragile attention.
LEARN MORE
SEE HOW IT WORKS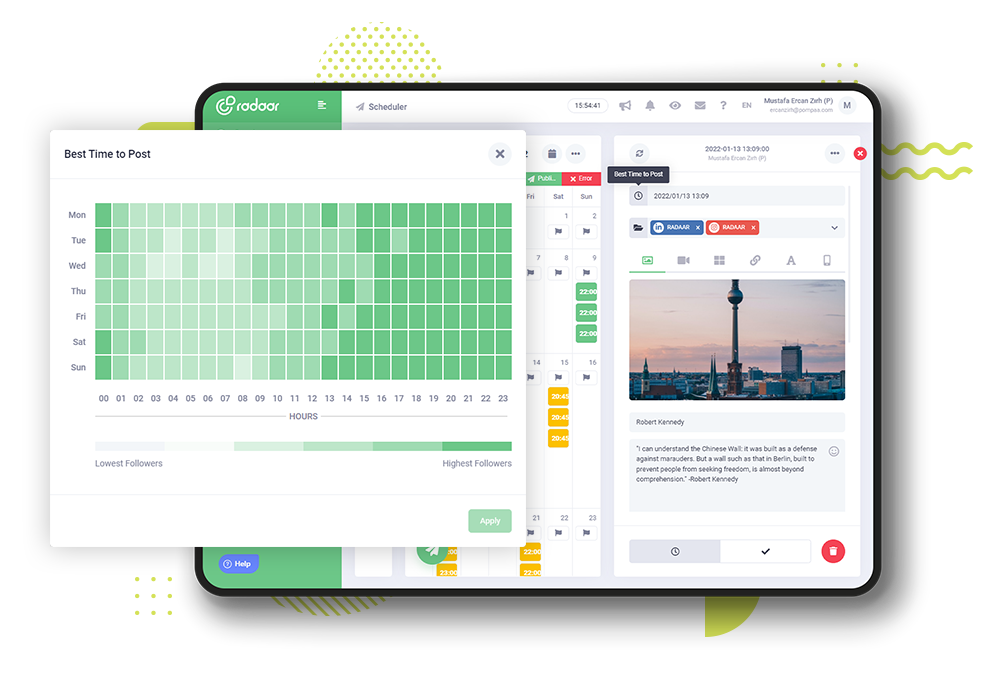 AMPLIFY YOUR REACH
Reach your audience and grow your brand...
Best Time to Post feature gives you scheduling suggestions that are unique to your audience. See your best posting times and schedule your content accordingly.
TRY IT FOR FREE
DATA-DRIVEN DECISION MAKING
Optimize your strategy and capture attention!
Even the most splendid social media posts will not do your business any good if you don't publish it at the right time. Analyze your data, choose the right time and schedule it then share your content.
FIND THE RIGHT TIME
Optimize your posts, boost engagement, and gain more followers...
If you don't post at the right time your followers may never see your posts. The Best Time to Post feature helps you to pick the right time to post on social media, targeting a time when your audience are online.
TRY IT FOR FREE
FREQUENTLY ASKED QUESTIONS
Find out more about the best time to post!
For some social media users, posting at a random hour is fine because they might be using it for fun. But if you are using social media to promote yourself or your brand, optimal timing is essential. Let's find out more about the best time to post!
It depends on the social media platform. Instagram, Facebook, YouTube, Twitter and many other social media channels have different type of audience. You can analyze each of them to decide what is the best to post.
To find out the best times to post for your social media account, sort your posts by your desired metric, such as likes, impressions, or engagement rate. This way takes time, you can also directly use a software for this purpose.
Every brand has its unique audience and its best time to post. Those times mean you can have the most reach, impressions and engagement from your audience.
Publish during peak times during the day, and you'll likely see more traffic and more engagement (comments and sharing).
PRODUCT TRAINING
Let us show you how...
Watch our product training video and start using the Best Time To Post feature with your team.
WATCH NOW