A powerful platform built for your team...
Reply to messages easily, create stunning content, and safely share passwords with your team members.
LEARN MORE
SEE HOW IT WORKS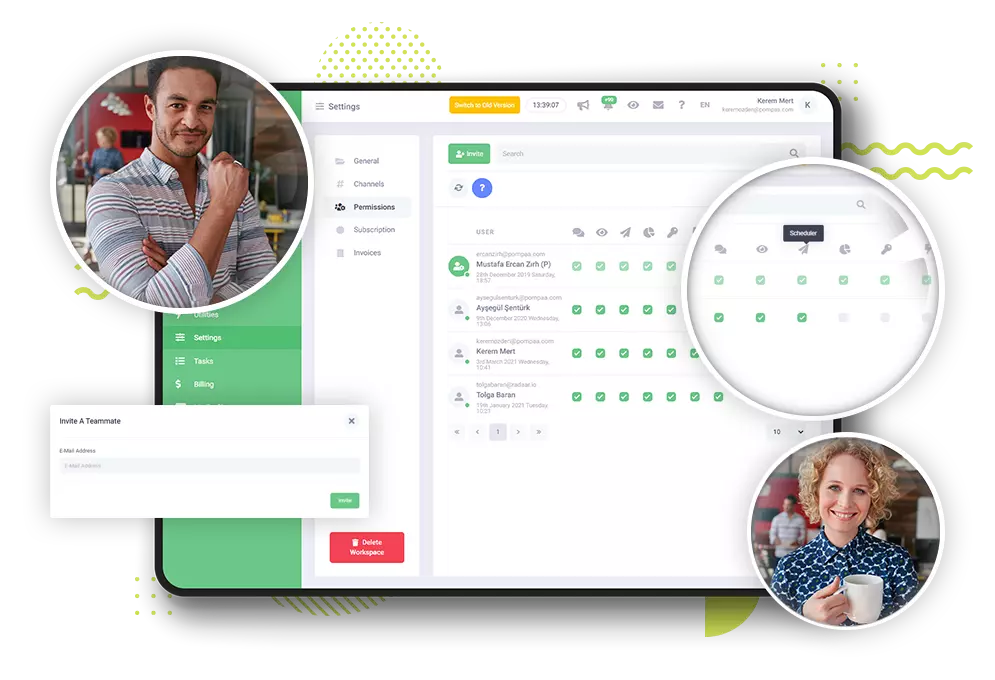 PERMISSIONS
You don't have to do it all alone...
Invite your team members and grant access to features in your workspace. You can even invite freelancers or interns to collaborate.
TRY IT FOR FREE
Collaborate with your team...
Stay on the same page and make decisions faster by bringing all of your team members into one place.
Get your team to work efficiently...
Keep your team connected whether they're working from home or in the office.
FREQUENTLY ASKED QUESTIONS
Frequently Asked Questions
Easily manage workspaces while collaborating with your colleagues.
Yes. You can easily invite your team members and even your clients into your workspaces and effectively collaborate to manage your social media accounts.
Yes. You can remove a team member from your workspace at any time, or you can temporarily disable them.
No. Team members and guests are free of charge. You will not be charged.
Yes. You can manage your team members' access to each feature.
There is no limit to the number of team members or guests you can invite to collaborate in a workspace. You may invite as many as you need.
PRODUCT TRAINING
Let us show you how...
Watch our product training video and find out how you can invite your team members and customers to a workspace.
WATCH NOW