Create must-click landing pages without coding...
With RADAAR's landing page builder, you can create outstanding, personalized landing pages all by yourself.
LEARN MORE
SEE HOW IT WORKS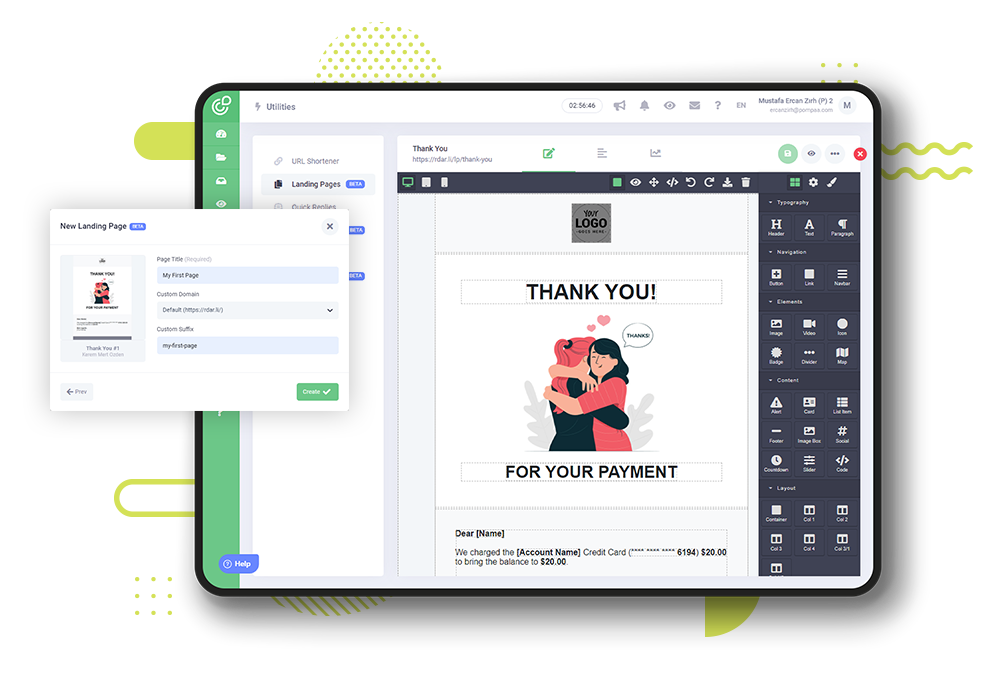 READY-TO-LAUNCH TEMPLATES
Create and publish splendid landing pages in no time!
Choose from our pre-prepared templates that are all %100 customizable for your business or brand.
TRY IT FOR FREE
DRAG & DROP
Add, change, or customize anything on your page easily!
Allow your brand to stand out through simple design tools and customizable templates. Our drag-and-drop content blocks make it easy to create your landing page.
NO-CODE
No coding skills needed!
Rapidly build and test landing pages without code. Your landing page will also be Bootstrap compatible so you can build it faster.
TRY IT FOR FREE
TRACKING CODES
Learn more about who visited your pages...
You can track and collect metrics based on your landing pages the same way you monitor your website. If you already have a Google Analytics, Meta Pixel, or Yandex.Metrica account, just enter the tracking code in your landing page.
TRY IT FOR FREE
STYLE MANAGER
Be your own designer for your brand...
The Style Manager allows you to create on-brand pages where you can choose your fonts and styles according to your taste just in seconds.
TRY IT FOR FREE
CUSTOM DOMAIN
Turn your links into brand assets...
We host landing pages on our servers, and each landing page has a unique URL. If you already have your own domain name, then you're good to go.
TRY IT FOR FREE
FREQUENTLY ASKED QUESTIONS
Everything you need to know about landing pages!
Now you know what our Landing Pages feature stands for. If you still have questions about landing pages, check out the FAQ's that we have prepared for you.
The landing page is a follow-up to the promises made in the content. Your landing page allows you to make a deal, some type of special offer, piece of information or a deal, in exchange for providing contact information.
You can create your landing page via RADAAR's Landing Pages feature, customize it to your needs and publish.
Landing pages lead customers to a particular product, service, or offer and encourage them to take action. This is your opportunity to create conversions and build a customer base.
If you have your own domain, you can connect it for your landing pages through RADAAR.
PRODUCT TRAINING
See how you can create your first landing page...
Watch our product training video and start using the Landing Pages feature with your team.
WATCH NOW