Enhance your feed with unique and engaging content...
Finding new ready-to-publish content has never been easier! A discovery engine that can assist you with content curation and outreach to your target audience.
LEARN MORE
SEE HOW IT WORKS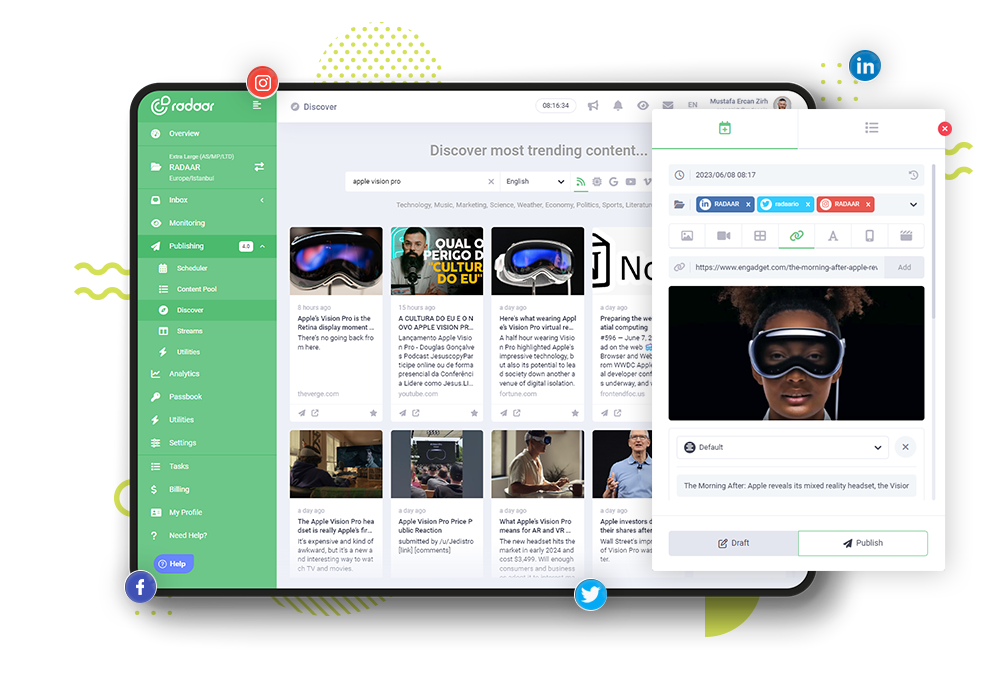 LOOK BEYOND YOUR HORIZON
Find ready-to-publish content for your social media profiles!
For anyone looking to find truly niche-level content, the Discover feature might be the ticket. It helps you save content as you find it.
TRY IT FOR FREE
FEATURES
Never run out of ideas!
Gain access to the widest selection of published content available online, at your fingertips.
RSS FEEDS
Stay on top of the latest with +10K RSS Feeds!
Whether you're looking for the latest news, blog posts, or videos, the Discover feature makes it easy to stay up-to-date on the topics that matter most to you. Say goodbye to endless scrolling and hello to relevant and engaging content, all in one single dashboard.
FREQUENTLY ASKED QUESTIONS
An in-depth look at how to find and share relevant content on your social media profiles...
We have collected a range of frequently asked questions about content discovery. These FAQs provide valuable information and strategies for identifying and sharing content that will engage and interest your followers.
Content discovery refers to the process of finding, identifying, and consuming relevant and high-quality content that aligns with your interests and needs. This can include articles, videos, podcasts, and more.
Quality content is essential for building trust and credibility with your audience. By providing informative and valuable information, you can establish yourself as a reliable source of information and gain the trust of your readers. This can lead to increased engagement, repeat visitors, and ultimately more conversions.
One way to find high-quality content by searching for specific keywords or phrases related to your topic of interest. Use search engines like Google or Bing and add in specific keywords to narrow down your results to the most relevant content.
A social media content refers to any type of information or media that is shared on social media platforms, such as text, images, videos, and more. This content can be created by individuals, businesses, or organizations and can be shared with a wide audience.
A consistent content publishing schedule is crucial for maintaining a strong online presence. It is recommended to publish new content at least twice a week for businesses in order to stay top-of-mind for their target audience.
Some popular content discovery tools include Feedly, Pocket, Flipboard, and Nuzzel. These tools allow you to subscribe to RSS feeds, save articles for later, and discover new content based on your interests.
PRODUCT TRAINING
Unlock the full potential of the Discover feature with our training video...
Whether you're a new user or an experienced professional, this video provides step-by-step instructions to help you understand how to use the Discover feature to it's full potential.
WATCH NOW