Make your social media post more discoverable...
Finding the right audience has never been easier! Use the Hashtag Manager to search, find and save new templates of hashtags from getting your content in front of more people.
LEARN MORE
SEE HOW IT WORKS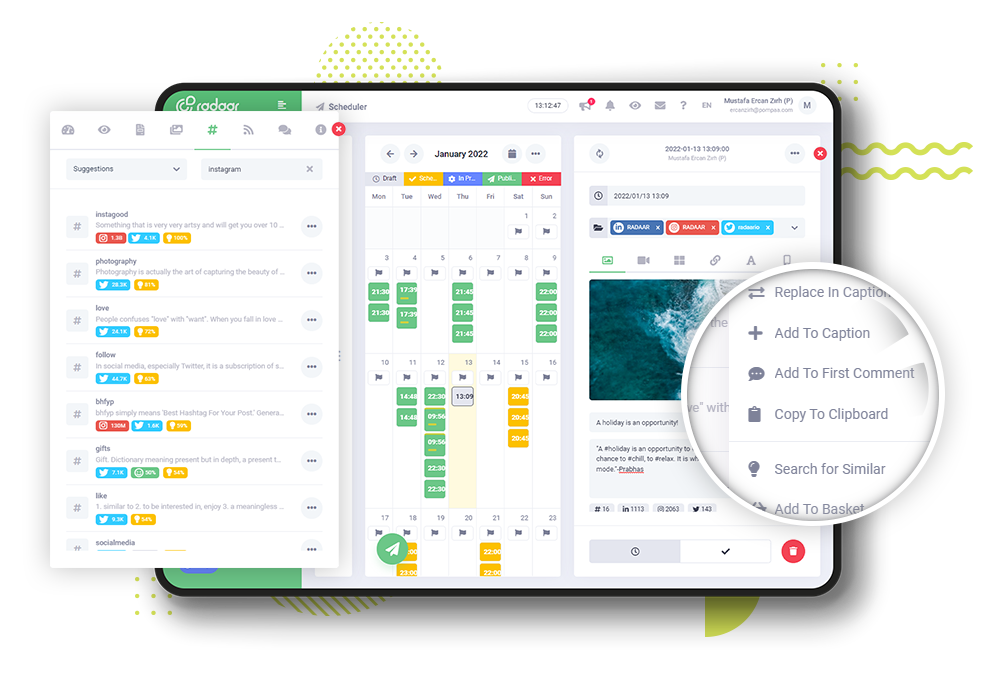 GET MORE REACH
Get the right hashtags for your content...
Whether you are a small business owner, influencer, agency, or just looking to improve your social media strategy, the Hashtag Manager is an essential tool to have.
TRY IT FOR FREE
HASHTAG SEARCH
Easily find trending hashtags in seconds!
Right hashtags can be used to get your content in front of a wider audience, raise brand awareness, target a specific audience, and take advantage of trending topics. Stop wasting time thinking of hashtags on your own! The Hashtag Manager helps you to find trending hashtags that will grow your social media profiles.
BOOST YOUR ENGAGEMENT
50% increase your engagement by using hashtags...
Using hashtags on social media can give you a significant advantage. Content with 1-2 hashtags gets twice as much engagement as those without them. Create a RADAAR account and become a hashtag power-user it only takes a couple of minutes.
TRY IT FOR FREE
FREQUENTLY ASKED QUESTIONS
Everything you need to know about hashtags...
Here are some tips for leveraging the power of hashtags for your social media strategy...
PRODUCT TRAINING
Let us show you how...
Watch our product training video and start using the Hashtag Manager feature with your team.
WATCH NOW