It is important to stay in touch and collaborate...
Increase your team's productivity and contents' success through efficient teamwork whether you work remotely or not.
LEARN MORE
SEE HOW IT WORKS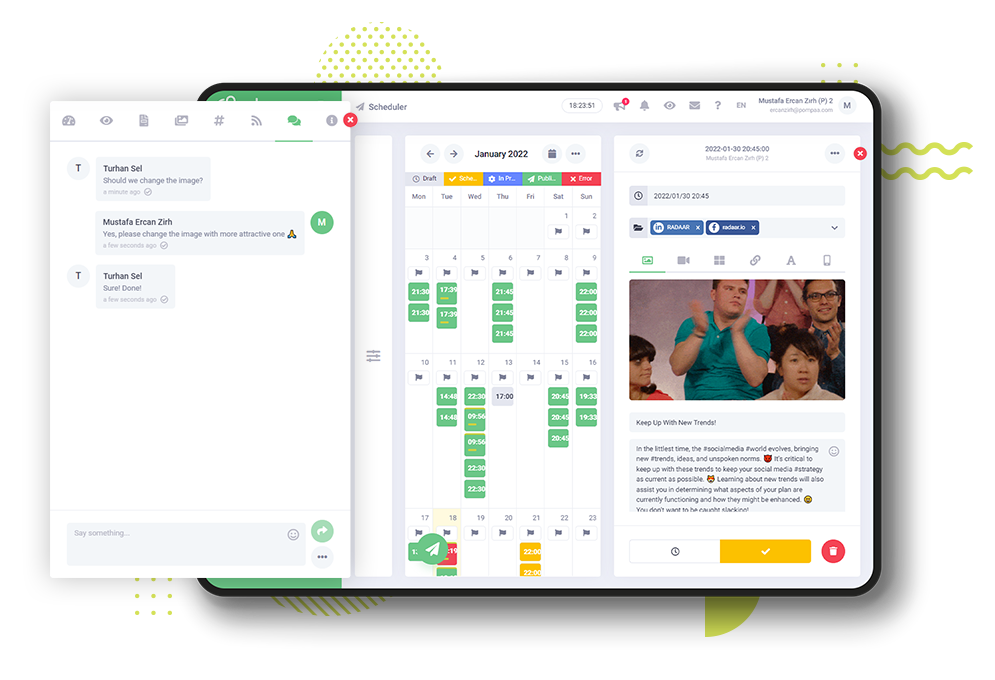 WORK TOGETHER
Work on your content with your team!
The quality of your content is a major thing for you to be noticed. And the best way to achieve this is through teamwork.. That's why you should be able to discuss easily with your team.
TRY IT FOR FREE
EVERYONE'S OPINION MATTERS
One eye is not enough and new ideas are always needed...
Marketing teams have to work closely with each other in order to create a strong message. Keeping in touch with your teammates ensures seamless collaboration and communication.
FREQUENTLY ASKED QUESTIONS
Everything you need to know about Team Discussion!
Need feedback from your teammates before sharing a content on social media? Let us show you the best way...
With the Team Discussion feature, you can easily chat with your teammates and make your content perfect together.
The number of teammates you can invite is limited by the limits of your subscription plan. You can manage the number on the subscription tab.
By inviting your teammates to your subscription on RADAAR, you can connect with them easily. Go to settings and then click the Permissions tab. After that you can see the Invite button to enter your teammates email addresses.
You can instantly see and track who is making changes on the relevant content.
PRODUCT TRAINING
Let us show you how...
Watch our product training video and start using the Team Discussion feature with your team.
WATCH NOW