Your favorite file storage service, right inside RADAAR!
Now, with just a few clicks, you can import content directly into RADAAR from Dropbox, Google Drive, Box and Microsoft One Drive.
LEARN MORE
SEE HOW IT WORKS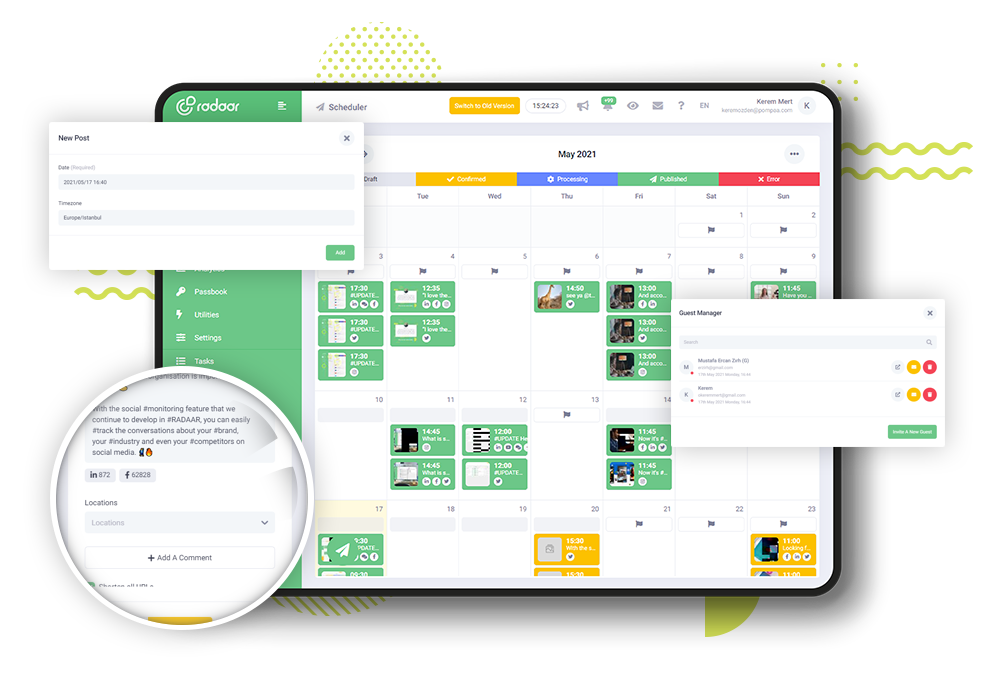 ACCESS YOUR FILES
It has become easier than ever...
Upload From Remote feature makes posting to your social profiles even more seamless. Rather than searching for files on your messy desktop to post, you can quickly grab your images and videos directly from your own cloud storages.
TRY IT FOR FREE
STREAMLINE REMOTE WORK
Keep life organized and simplify how you work!
With easy access to all of your images and videos through Google Drive, Microsoft OneDrive, Dropbox, and Box integrations, you can save even more time when posting content through RADAAR.
GOOGLE DRIVE
Access your Google Drive files from RADAAR dashboard...
Google Drive is a powerful, easy to use and immensely popular cloud storage service. It gives you the power to upload and save a range of file types including photos and videos. Upload From Remote feature provides easy access to
Google Drive
, so you can import every photo and video quickly.
TRY IT FOR FREE
MICROSOFT ONEDRIVE
Get all your OneDrive content with RADAAR...
OneDrive is the cloud storage service that Microsoft offers to store all your files securely in one place, which you can then access from anywhere. With Upload From Remote feature, you can attach
Microsoft OneDrive
files directly into your content.
TRY IT FOR FREE
DROPBOX
Access all your files in Dropbox...
Dropbox is a fantastic option for those looking for an easy-to-use, low-cost cloud storage platform. As soon as you connect your
Dropbox
account to RADAAR, you'll able to access all the media that you want to import.
TRY IT FOR FREE
BOX
View, and search, easily attach images to your posts...
Box is a single, secure, easy-to-use platform built for the entire content lifecycle, from file creation and sharing.
Box
integration makes sharing and managing your content a snap. You eaisly can get uploaded files from your Box account to your social media content.
TRY IT FOR FREE
FREQUENTLY ASKED QUESTIONS
Find out more about cloud storages!
Save time while managing your social media content planning with upload from remote integrations in a few clicks.
PRODUCT TRAINING
Let us show you how...
Watch our product training video and start using the Upload From Remote feature with your team.
WATCH NOW