Create engaging content with high-quality free stock photos...
Social media content that include visuals get 650% higher engagement than those that don't. If you're struggling to find free high-quality photos, the Stock Library is here to make it easy to find the visuals you're looking for.
LEARN MORE
SEE HOW IT WORKS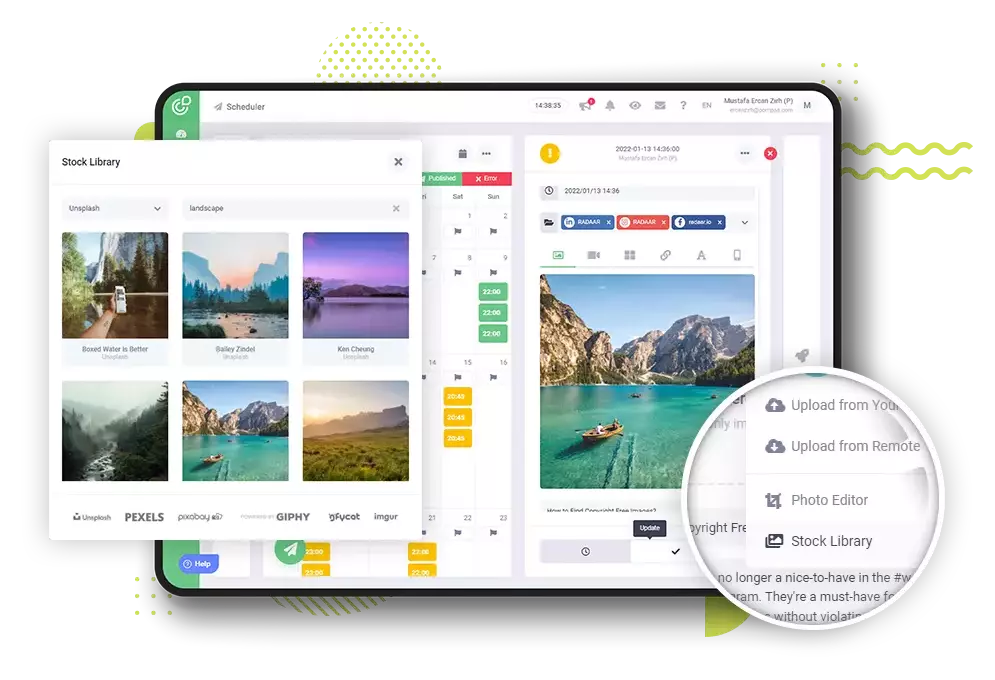 EYE-CATCHING CONTENT
A picture is worth a thousand words...
It is well-documented that image-led social media posts have considerably better engagement rates than text-only content. However, if every single post needs a graphic, where do you find them all? Starting today, you can easily search and find free, on-brand stock photos with the Stock Library.
TRY IT FOR FREE
SEARCH AND FIND
Capture attention, increase click-rates, and engagement...
Visuals can have a tremendous impact on the success of your content marketing and social media strategy. Images help to increase more traffic, clicks, and conversions. Now you can get, edit, and schedule high-quality stock photos in minutes to share eye-catching content.
INTEGRATIONS
Millions of royalty-free media at your fingertips!
With major stock image providers integration, including Unsplash, Pexels, GIPHY, and Pixabay, the Stock Library allows you to find and use completely free, high-resolution photographs within your posts. Here's the list of the built-in integrations of the Stock Library:
UNSPLASH
Find the perfect social media pictures...
Unsplash is a well curated collection of gorgeous photos donated by talented photographers and has been used to create some breathtaking work. Now you can create stunning content by adding freely usable imagery from Unsplash.
LEARN MORE
PEXELS
These images will captivate your audience...
Well curated from a variety of sources, once you enter a keyword into the Stock Library, you will only be shown a high-quality range of images—and you won't need to scroll to find what you are looking for endlessly.
LEARN MORE
PIXABAY
Stunning free images & royalty-free stock...
Over 2.4 million+ high-quality stock images, videos and music shared by Pixabay talented community. Find the best picture for your next content.
LEARN MORE
GIPHY
Make your audience laugh in the middle of a chaotic day...
GIFs are not only entertaining and creative, but they are also a great addition to your social media marketing strategy. GIPHY is your top source for the best & most recent GIFs & Animated Stickers online. Find everything from absurd GIFs, reaction GIFs, unique GIFs and more.
LEARN MORE
TENOR
Get 55% more engagement...
Omnicore discovered that tweets with GIFs get 55% more engagement than those without — but only 2% of all tweets contain GIFs. Tenor is the next best thing when it comes to sharing GIFs. Tenor has a powerful collection of GIFs. It also makes it easier to search and share GIFs on social media.
LEARN MORE
GFYCAT
Consider using GIFs in your social media marketing...
Every smart brand knows that if you want to engage your audience and reach new horizons, GIFs in marketing are a must. Gfycat is another gallery with millions of GIFs to dive into. Gfycat lets you find the best GIF for your content.
LEARN MORE
IMGUR
Grab more attention with Memes...
Memes are designed to encourage sharing, which means that the same content is re-posted frequently by people for enhanced visibility. Discover the magic of the internet at Imgur, a community-powered entertainment destination. Lift your spirits with funny jokes, trending memes, entertaining GIFs, inspiring stories, viral videos, and so much more.
LEARN MORE
FREQUENTLY ASKED QUESTIONS
All you need to know about stock images!
Many businesses hire professionals to take pictures of their products and capture their brand story, but that isn't practical for many local business owners. The good news is that you don't need original images to make social media marketing work. That's where stock photography comes in handy! Want to learn all you need to know about this useful imagery resource and how you can benefit from it?
PRODUCT TRAINING
Let us show you how...
Watch our product training video and start using the Stock Library feature with your team.
WATCH NOW