Upload multiple photos & videos at once...
Upload and schedule your content by preparing a single CSV file for your posts to be shared across multiple platforms easily.
LEARN MORE
SEE HOW IT WORKS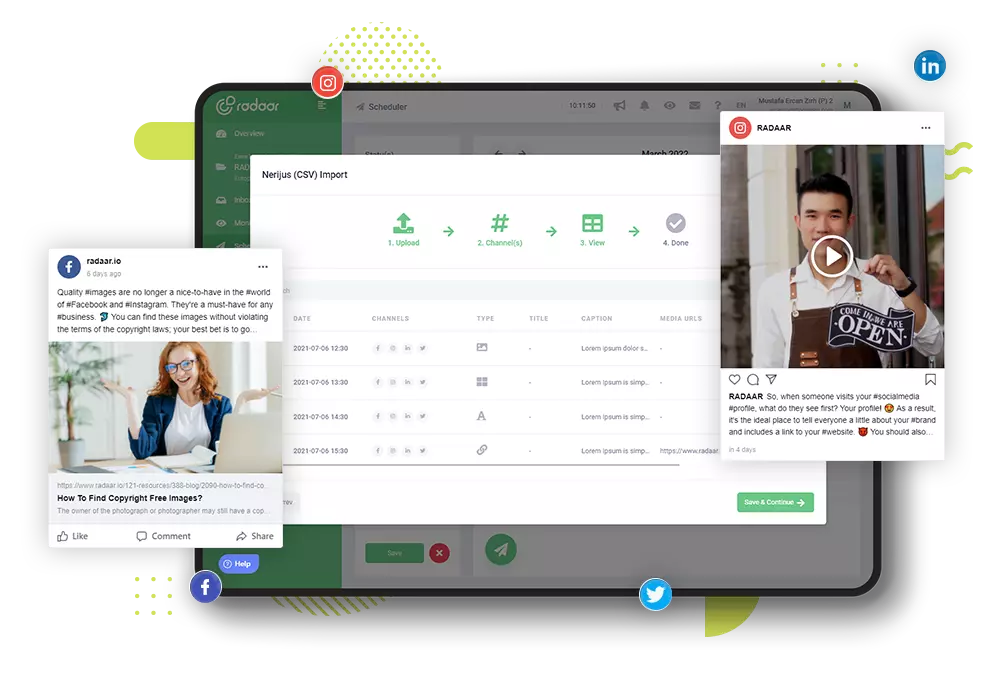 SAVE TIME
Easier than you think...
To save time on the process of scheduling all of your posts, just simply bulk upload them to RADAAR and save your time for other responsibilities.
TRY IT FOR FREE
SPEED UP YOUR WORKFLOW
No more uploading posts one by one!
While managing multiple social media profiles, it can be overwhelming to create separate posts for each of them. Instead of scheduling your posts one by one, you can schedule them all at once with the Bulk Import feature. All you need to do is prepare a simple CSV file and import it to RADAAR! That's it, you're done!
FREQUENTLY ASKED QUESTIONS
Everything you need to know about Bulk Import...
Instead of entering your content one by one, import your CSV file to RADAAR and your content calendar will be updated.
A comma-separated values (CSV) file is a delimited text file that uses a comma to separate values and each line of the file is a data record.
A feature that facilitates content uploads by allowing you to use CSV files.
Download the example CSV file and fill it out. Then import to RADAAR. Review, edit and bulk schedule your content.
Comma-separated value (CSV) files are simplified versions of the type of spreadsheets you create with Excel and similar software. If you have Microsoft Office installed, you can easily import or export CSV files from Excel.
By using this feature, you can transfer many of your content to the system with one click.
PRODUCT TRAINING
Let us show you how...
Watch our product training video and start using the Bulk Import feature with your team.
WATCH NOW