Create stunning designs with Canva's awesome features...
With thousands of Canva's professional templates, images and quality content, get a headstart on bringing your best ideas to life, and publish it with RADAAR.
LEARN MORE
SEE HOW IT WORKS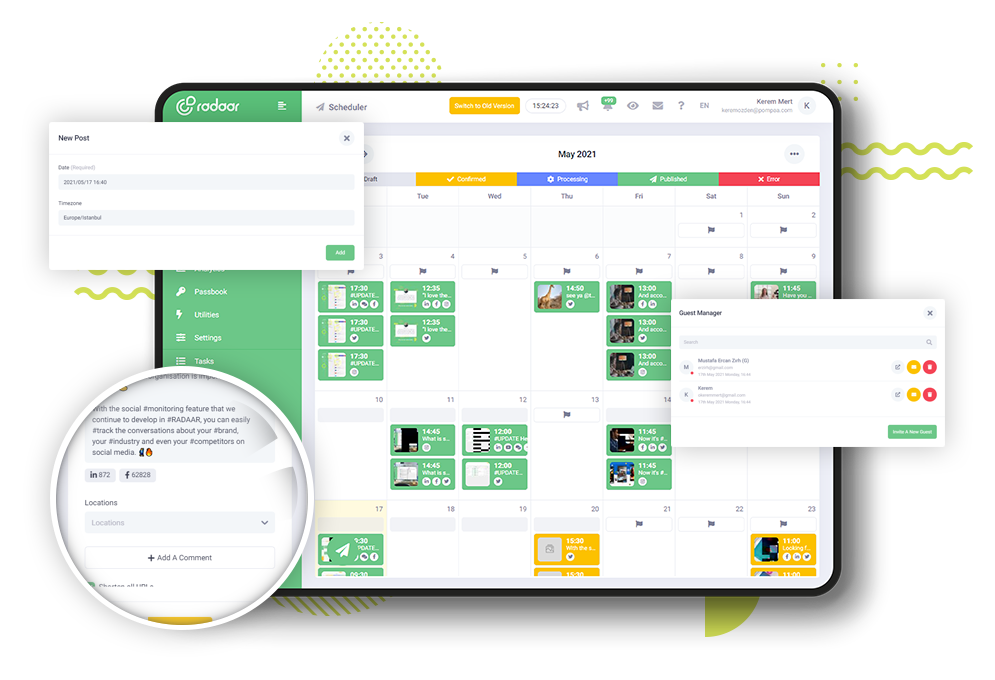 ONLINE EDITING
Show the world what's on your mind...
Integration between RADAAR and Canva lets you edit, design, and share your photos seamlessly to your social media channels, so you can achieve your professional and personal goals even when you're on the go.
TRY IT FOR FREE
UPLOAD, EDIT, AND SHARE
Endless possibilities, every time you post...
Canva integration offers so many tools and features all in one place. That's a breath of fresh air when you need your social media posts to be quick, easy and original.
CURVED TEXT
Use Curved Text to tell it in a unique way...
In minutes, you can curve your text as whole text boxes rather than letters. Experiment with forming your texts into circles or arcs, and incorporate your personality into your design.
LEARN MORE
TEXTURES
Texture can be used to create homey, lived-in designs...
When a flat color just won't do, with Canva add texture to your designs! Select from a wide range of textured backgrounds, including real-world papers and fabrics as well as fanciful designs and patterns. Look through our image library for textures to enhance with photo filters and transparency and use in any part of your design.
LEARN MORE
IMAGE CROPPER
Crop your images for trimming and precise composition...
Crop your photos quickly and easily! After taking a large number of photos, Canva's cropping tool can help you transform them so they look great with your next project and are trimmed to the perfect size.
LEARN MORE
SPEECH BUBBLE
Drag and drop a speech bubble to say it loudly...
With Canva, you can quickly add your own dialog by dragging and dropping speech bubbles into your designs. You can always edit the dialog, change the colors, or move and resize your digital speech bubbles.
LEARN MORE
ADD TEXT TO PHOTO
Add text to any photo for a quick caption or compelling commentary...
Add text in fast, easy way with Canva. Ensure your images look brilliant with text tools bring you plenty of fresh fonts and expert typography.
LEARN MORE
PHOTO EFFECTS
Add magnificent photo effects to make your photos glorious...
Experiment with photo effects to give your photos an out-of-this-world look! With Canva, creating photo effects is a breeze!
LEARN MORE
PHOTO STRAIGHTENER
Straighten your photos to keep your photographs sharp...
Every aspect of your design is important. With Canva, it is easy to rotate your photos so your surfaces and horizon lines are straight and squared up.
LEARN MORE
TRANSPARENT IMAGES
Create soft, magical designs with transparent images...
Give your designs an elegant backdrop with transparency! Every element of the design has adjustable transparency with Canva.
LEARN MORE
DESIGN AND PHOTO GRIDS
Using design grids, keep your photos and layouts looking clean...
Drag and drop any design element into the open frames to get started. Design grids allow you to imagine and play, from simple three-frame designs to complex arrangements ideal for mood boards.
LEARN MORE
STICKERS
Thousands of stickers to add to your photo...
Stickers to spice up your projects, ranging from snappy slogans to cheeky signs of affection, are all free and ready to use.
LEARN MORE
FRAMES
Add a cool photo frame effect to your photos...
Recreate the look of oak or the curves of scrapbooking scissors! With Canva's drag and drop photo frames effect, you can give your digital design work the masterpiece treatment.
LEARN MORE
VIGNETTE
With Canva, add a brilliant vignette to your images...
With the vignette filter, you can add a photo vignette to any image! You can even design your own vignette effects.
LEARN MORE
FREQUENTLY ASKED QUESTIONS
Learn everything you need to know about Canva integration...
Designing content might be time-consuming, and sometimes you might be stuck in the creative process. Expand your horizons; with a few clicks and smart solution offers, learn more about Canva!
Canva is a free-to-use online graphical tool that combines design, photo editing, and layout to help content creators design beautifully finished projects.
Canva Pro costs $119,99/yearly, you can invite maximum 5 people to the Canva Pro account.
Yes, you can. Canva has 30 days free trial.To activate your Canva Pro account, you'll need to enter a credit card. You can cancel at any time during your trial and you won't be charged.
Firstly, create a profile to access your design later. Then choose the right dimensions and features that you would like to use for your design.
From the homepage, click on the ⚙ gear icon to go to the Account Settings. Then, click the Billing & Teams tab, and go to Subscriptions and you'll see the 'Cancel subscription'.
Click on the Edit Image button on the top toolbar. Next, select 'BG Remover' on the left side panel that appears. Then, click 'Erase' to remove the background. After clicking 'Erase', like magic, the background will disappear.
PRODUCT TRAINING
Let us show you how...
Watch our product training video and start using Canva integration with your team.
WATCH NOW