Manage your Google Business Profiles, alongside your social media profiles...
When a client writes a Google review, you'll have one spot to track, interact, and develop strong relationships. Plus, by posting corporate updates directly from RADAAR, you may attract new customers!
LEARN MORE
SEE HOW IT WORKS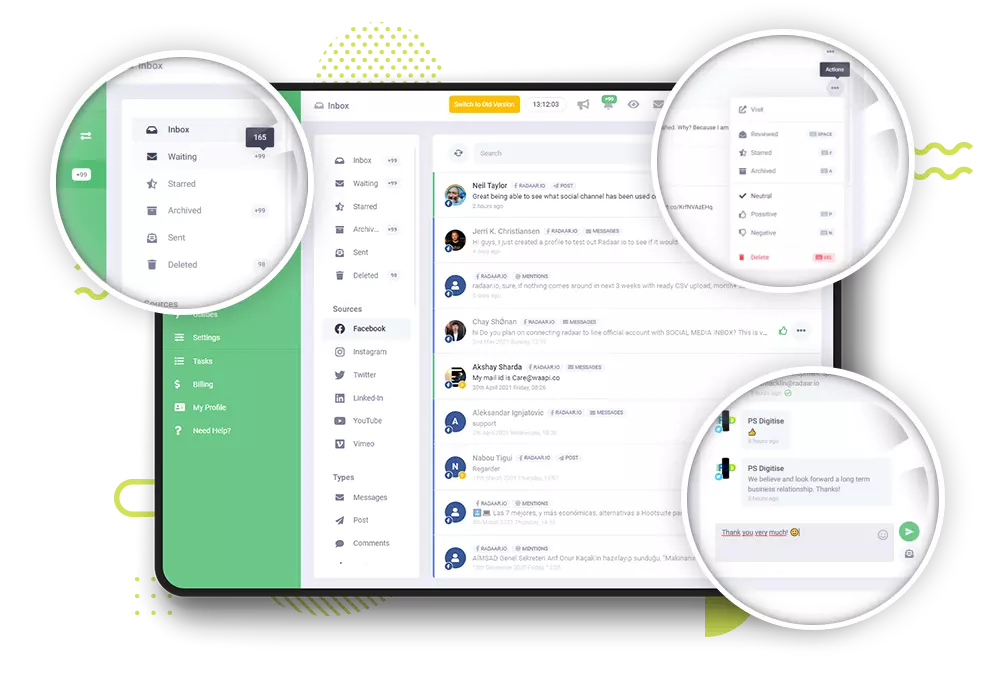 HIGHLY VISIBLE
Be ahead of the curve by using Google Business Profile...
Use RADAAR to promote company updates by posting to your profile, watch what people are saying about your business and reply to customer reviews for various locations.
TRY IT FOR FREE
SOCIAL INBOX
Never miss a customer review again...
With RADAAR's Social Inbox feature you can combine all of your Google Business Profiles into one stream so you can keep track of incoming reviews, and swiftly reply to your customers.
LEARN MORE
SCHEDULER
Schedule your Google Business Profile posts with no hassle!
By using RADAAR's Scheduler you can catch new customers' attention and grow your business on Google Search or Maps.
LEARN MORE
FREQUENTLY ASKED QUESTIONS
Manage multiple Google Business Profiles within a single dashboard!
Still confused? Check out the FAQ's that we've prepared for you...
Google Business Profile is a tool for managing and optimizing your Google Business Profile.
Yes you can! But in order to schedule your posts, you need to have an Google Business Profile so make sure you create one first.
Yes, creating a Google Business Profile is completely free. Create a free profile, and you'll be able to manage your business from Google Search and Maps, allowing you to reach out to more clients.
Google My Business is now Google Business Profile. With the new name, new features have also arrived. You can now edit your Business Profile information from search , complete verification or resolve other issues.
PRODUCT TRAINING
How to manage social media messages?
With the Social Inbox, which we continue to develop in RADAAR, you can now easily manage all messages and comments from your social media accounts.
WATCH NOW
RELATED BLOG POSTS
All the tips & tricks you'll need...
Get the fresh tips and tricks you'll need to ace social media marketing.