You can manage your incoming Telegram messages with RADAAR!
Telegram is the most secure messaging network in the world. If you have a Telegram for your business and want to manage incoming messages, RADAAR is here for you!
LEARN MORE
SEE HOW IT WORKS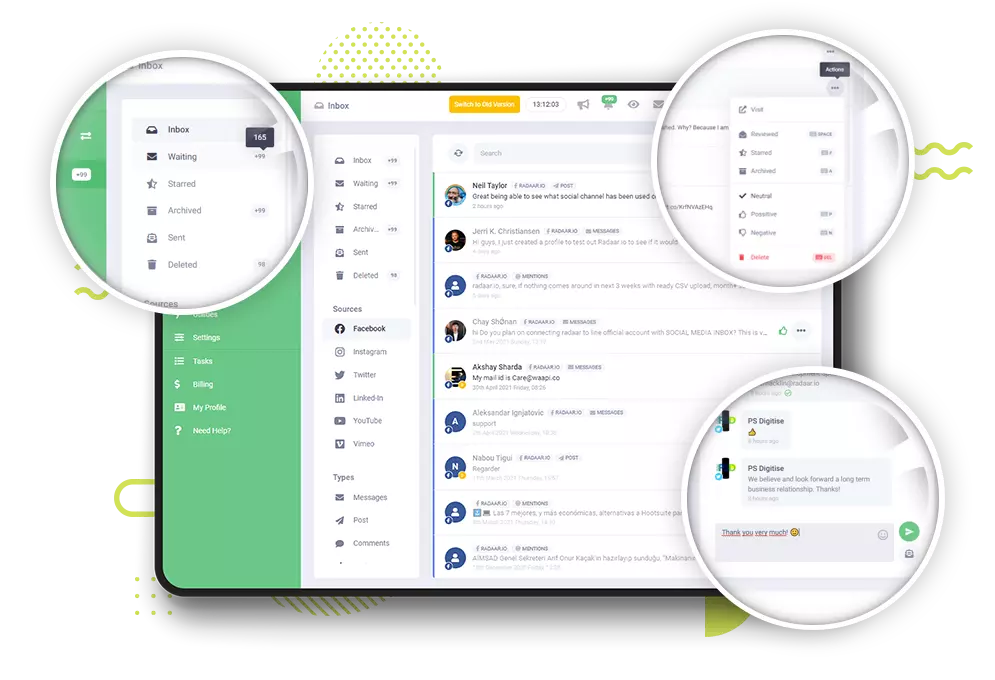 IN ONE PLACE
All your messages are in one place so that you won't miss out anything...
Use RADAAR to engage more with your customers or potential ones. You will never miss a single message when connect your Telegram to your Social Media Inbox!
TRY IT FOR FREE
SOCIAL INBOX
All the messages you received is in the same place...
You can view, manage and reply to all messages sent to your Telegram account. Additionally, everything comes to a single dashboard and without any chance of missing!
LEARN MORE
FREQUENTLY ASKED QUESTIONS
The answers to all your questions about Telegram are right here...
If you're wondering more about Telegram Bots, be sure that you check out the FAQs!
Similar to Facebook Messenger or WhatsApp, Telegram Messenger is a messaging service. Therefore, using a Wi-Fi or mobile data connection to send texts is completely free. Users are able to send messages, files of any kind, images, movies, stickers, and audio.
Open up the Telegram web portal. Enter the mobile number that is connected to your Telegram account and press Next. After that, enter the code and click the Sign In button. Then click the Delete account option and confirm.
The Social Inbox is a unified inbox of all of your social media channels messages. It allows you to see and engage in all your social conversations, mentions, comments, and messages in one place so that you can deliver responses quickly and keep your community happy.
Bots are external programs that operate inside Telegram. By delivering messages, commands, and inline requests, users can communicate with bots. Using HTTPS calls to Telegram's Bot API, you may manage your bots.
On your desktop, open the Telegram app. In the top-left field, enter the group name and then click return. The list of all the channels that match the name you entered can be seen under Global search results. Choose Join Channel after clicking on the chosen channel.
The Social Inbox unifies all of your messages so you can interact with your audience on all social media platforms, easily. Social Inbox is also vital for teams who are divided over numerous divisions, time zones, and locations.
PRODUCT TRAINING
How to manage social media messages?
We know very well how crucial the incoming social media messages and how difficult it is to manage them. With the Social Inbox, you can now easily manage all messages and comments from your social media accounts.
WATCH NOW
RELATED BLOG POSTS
All the tips & tricks you'll need...
Get the fresh tips and tricks you'll need to ace social media marketing.