Share and manage your Vimeo videos with RADAAR...
Vimeo allows you to make videos and edit them without using any other software. However, you may still need a management tool. RADAAR helps you handling your comments, scheduling content, and monitoring!
LEARN MORE
SEE HOW IT WORKS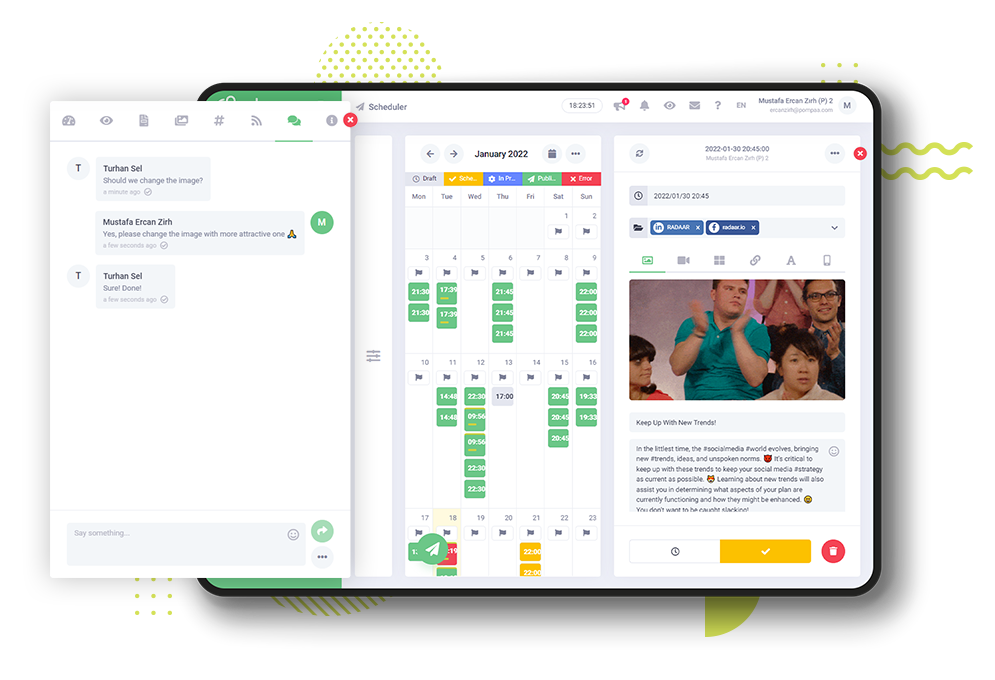 LET YOUR VIDEOS BE ON TOP
Discover the right tactics to achieve the greatest results on your Vimeo account!
Whether working alone or as a team, you can simply manage your comments and plan your content! It's never been easier to keep track of your account...
TRY IT FOR FREE
FEATURES
Get more out of Vimeo with our stunning features...
Plan your content ahead, don't miss any comment, follow what's being said about you, and take it your content to the next level by managing your Vimeo account with RADAAR.
FREQUENTLY ASKED QUESTIONS
Everything you need to know to get ready to use Vimeo...
Check out the FAQs for any other questions on how to best use Vimeo!
Vimeo is a video-sharing website and also includes a number of subscription-based tools and features, such as an editing suite.
Users can upload videos on Vimeo, watch others videos, create playlists, save them, comment, like and so on. However, Vimeo's community is very actively engaged too.
Log in, then click Settings after hovering over your profile image in the top navigation bar. Select the Privacy tab from the drop-down menu. Follow the on-screen steps after clicking Delete my account.
Anyone can watch videos on Vimeo without throttling, but you need to sign up for a Basic account if you plan to upload any content.
Navigate to the settings menu in the top right corner of the screen and select Manage Subscription and click Cancel Subscription. Lastly, choose an option and then select Continue.
Vimeo basic is free for users and includes 500MB per week and 5GB total storage.
PRODUCT TRAINING
How to customize your caption?
If you need to differentiate the caption of a content you have prepared for sharing according to social media profiles, you can take advantage of Caption Variations feature.
WATCH NOW
RELATED BLOG POSTS
All the tips & tricks you'll need...
Get the fresh tips and tricks you'll need to ace social media marketing.