Feel free to create blogs and start here!
If you have a creative soul that wants to write and you think they're worth to be shared, WordPress is just for you to write and to publish them on your own site...
LEARN MORE
SEE HOW IT WORKS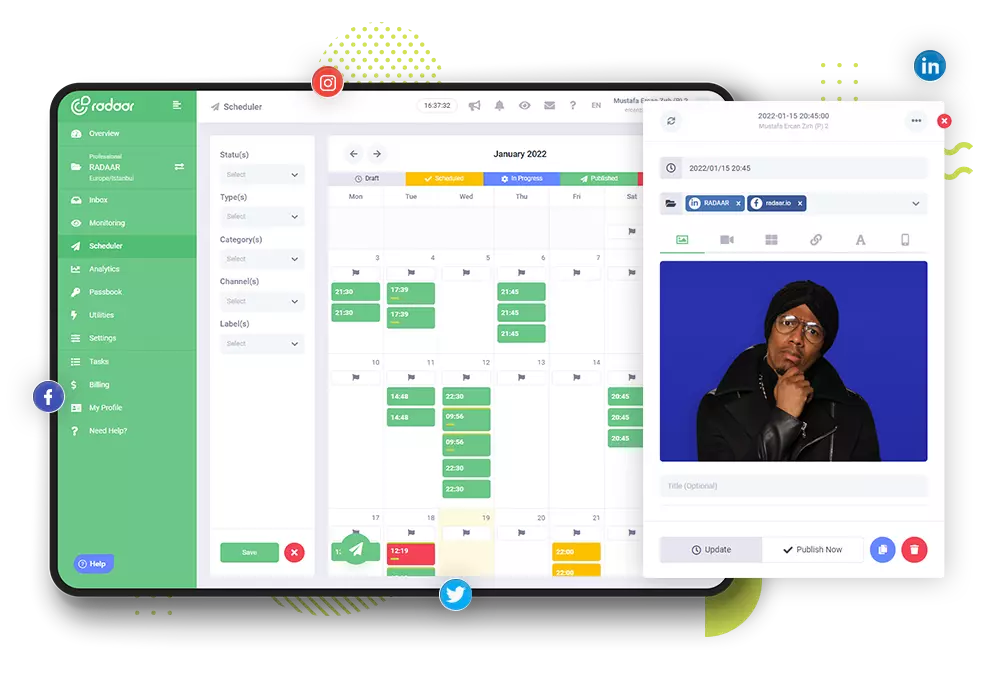 SPREAD YOUR CREATIVITY
Publish new blog posts regularly...
Schedule your WordPress content with RADAAR and let it share your blog posts ahead of time with your audience and manage all incoming comments.
TRY IT FOR FREE
SCHEDULER
Don't let your content publishing be interrupted!
With RADAAR's Scheduler feature, you can prepare your content in all details and allow it to be shared automatically, whenever you wanted. So you'll save time while your blog posts are shared at the right time.
LEARN MORE
SOCIAL INBOX
Your relation with your audience is important to us!
RADAAR's Social Inbox helps you to follow up and manage all the comments about what your audience think about your content and what they want to say.
LEARN MORE
FREQUENTLY ASKED QUESTIONS
Everything you might curious about WordPress...
If you still have any more questions about WordPress, do not forget to check out our FAQ's!
You can host and create websites using WordPress. WordPress has a template system and a plugin architecture that allow you to personalize any website to meet your company, blog, portfolio, or online store.
The WordPress software is open source and totally free.
To delete your WordPress.com site, first log in to your WordPress account and then you see, In the left-hand menu, the Manage button. Go to Settings from there and Now scroll to the bottom of the screen. Finally select Delete Your Site Permanently and you're done deleting.
Web pages are built from scratch using the coding language HTML (Hypertext Markup Language). However, WordPress is a content management system that enables you to host media, publish articles, and upload files.
At WordPress, you can quickly create a free blog and start publishing all your content and articles for everyone to read.
WordPress is a platform that is excellent for beginners. WordPress has a simple dashboard with various menu options presented in the sidebar and is fairly powerful. You can quickly make articles and pages, alter the appearance of your website, include navigation menus, and do much more.
PRODUCT TRAINING
How to connect a WordPress Website?
You can easily publish content, receive and reply messages via WordPress (Website) integration.
WATCH NOW
RELATED BLOG POSTS
All the tips & tricks you'll need...
Get the fresh tips and tricks you'll need to ace social media marketing.