Add value to your business with text messages...
Send text messages to your target audience with your own title or with your special Netgsm number. You can use the SMS service with your Netgsm subscription user name and password via RADAAR.
LEARN MORE
SEE HOW IT WORKS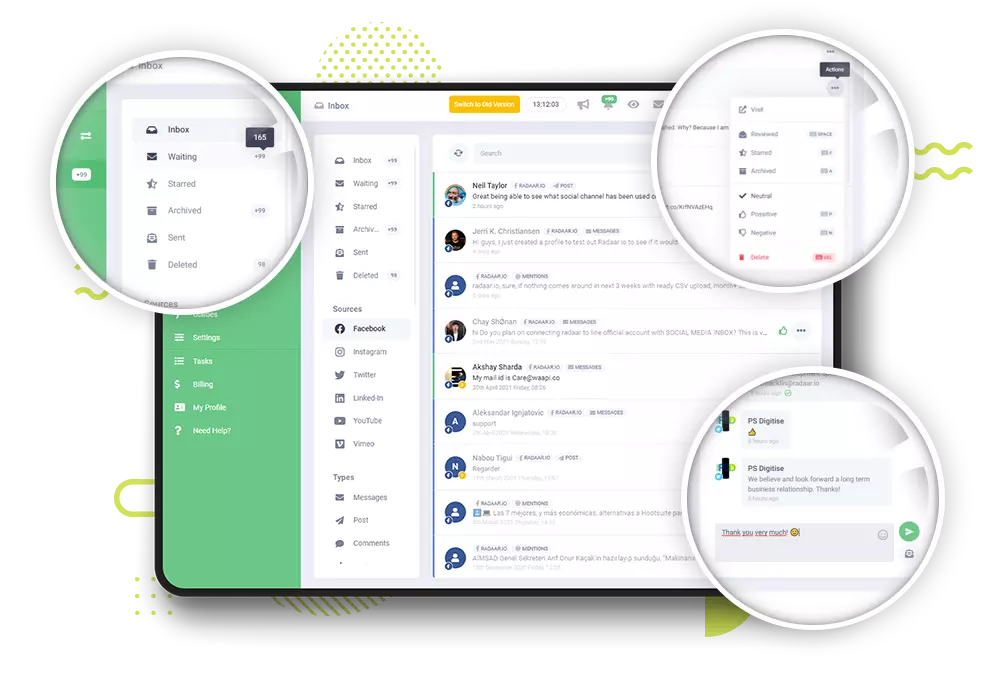 UNIFY ALL MESSAGES
Engage with your customers through all channels...
Netgsm provides you with real-time SMS delivery service via GSM operators. Use Netgsm SMS services with RADAAR and do not let any of your messages go unnoticed!
TRY IT FOR FREE
SOCIAL INBOX
Prioritize messages efficiently....
Sort your messages using RADAAR to prioritize what's important for you to have the best relation with your customers...
LEARN MORE
FREQUENTLY ASKED QUESTIONS
Quick and simple message handling for your business...
If you have questions about Netgsm, check out the FAQ's that we've prepared for you!
Netgsm is a new generation phone operator with direct connections to all operators without intermediaries.
You can work either prepaid or postpaid.
SMS (short messaging service) also known as text messaging allows you to send a short note or message to anyone around the world.
You can start your subscription processes with the Membership button on the homepage. Their customer representatives will contact you instantly for the necessary information.
Yes. Netgsm is registered to the Number Transport System (NTS).
SMS marketing is similar to texting; the only difference is that it serves a specific purpose. The texts of SMS marketing update the customers on an upcoming sale, a new product launch, or just a reminder to return again.
PRODUCT TRAINING
How to manage social media messages?
We know very well how crucial the incoming social media messages and how difficult it is to manage them. With the Social Inbox, you can now easily manage all messages and comments from your social media accounts.
WATCH NOW
RELATED BLOG POSTS
All the tips & tricks you'll need...
Get the fresh tips and tricks you'll need to ace social media marketing.