Improve your customer experience...
To connect you with customers, Twilio provides dependable worldwide communications and tailored experiences. Use Twilio via RADAAR and treat every customer like a VIP.
LEARN MORE
SEE HOW IT WORKS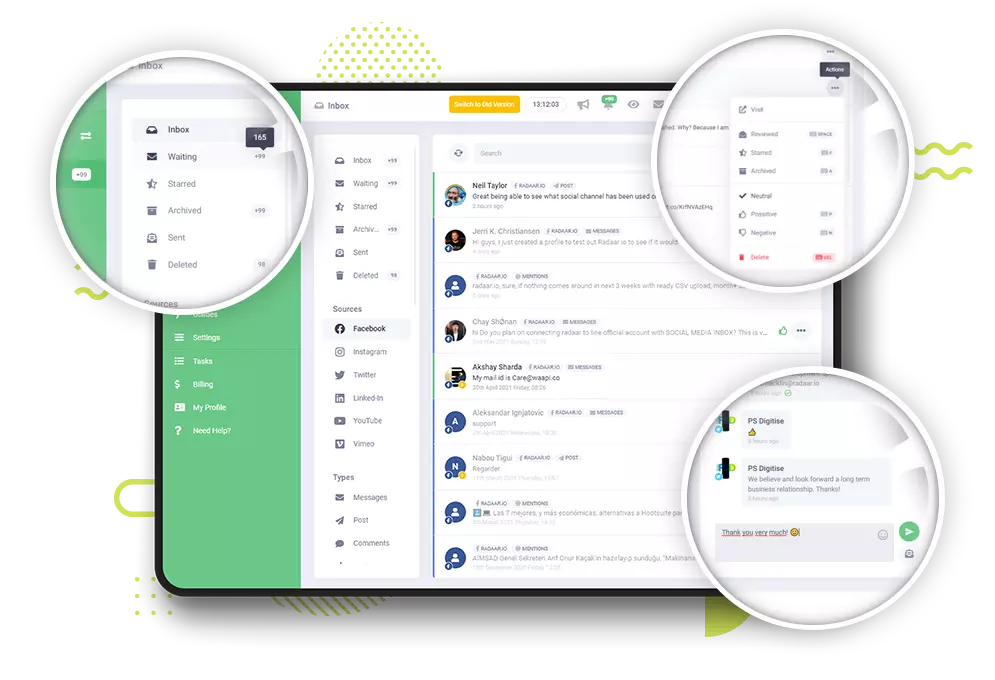 STRONG RELATIONSHIPS
A communications platform built on the principles of quality...
To establish a deep relationship with your audience, start using RADAAR to manage all of your incoming messages including text messaging from a single shared inbox.
TRY IT FOR FREE
SOCIAL INBOX
An unified inbox to reply rapidly...
With RADAAR you can engage with customers whenever you can with excellent messages and at their preferred ways.
LEARN MORE
FREQUENTLY ASKED QUESTIONS
The next generation of business messaging...
Check out the FAQ's if you still have questions about Twilio (SMS) integration...
Twilio is a customer engagement platform that is known for democratizing channels like voice, text, chat, video, and email through APIs.
SMS is the service of sending a message written via mobile phone to another.
Set up a Twilio account. Begin building your subscriber list. Adding a form to your website or exchanging valuable material for your consumers' phone numbers are two options you may explore.
Sign up for Twilio and purchase an SMS-enabled phone number. Check and install any prerequisites using Composer. Send your first SMS. Set up your development environment to send and receive messages. Receive inbound text messages. Reply to incoming messages with a return SMS.
Short messaging service (SMS) marketing is a type of advertising that companies employ to text clients with promotions. In other words, SMS marketing and text message marketing are the same.
A unified inbox is a central inbox that combines messages and/or emails from multiple sources.
PRODUCT TRAINING
How to connect a Twilio Phone Number for SMS?
With the Social Inbox feature, you can manage and reply your incoming text messages (SMS).
WATCH NOW
RELATED BLOG POSTS
All the tips & tricks you'll need...
Get the fresh tips and tricks you'll need to ace social media marketing.