Reach your customers instantly...
Twilio allows you to easily communicate with your customers through WhatsApp Business. You can enrich your messaging experience by using RADAAR!
LEARN MORE
SEE HOW IT WORKS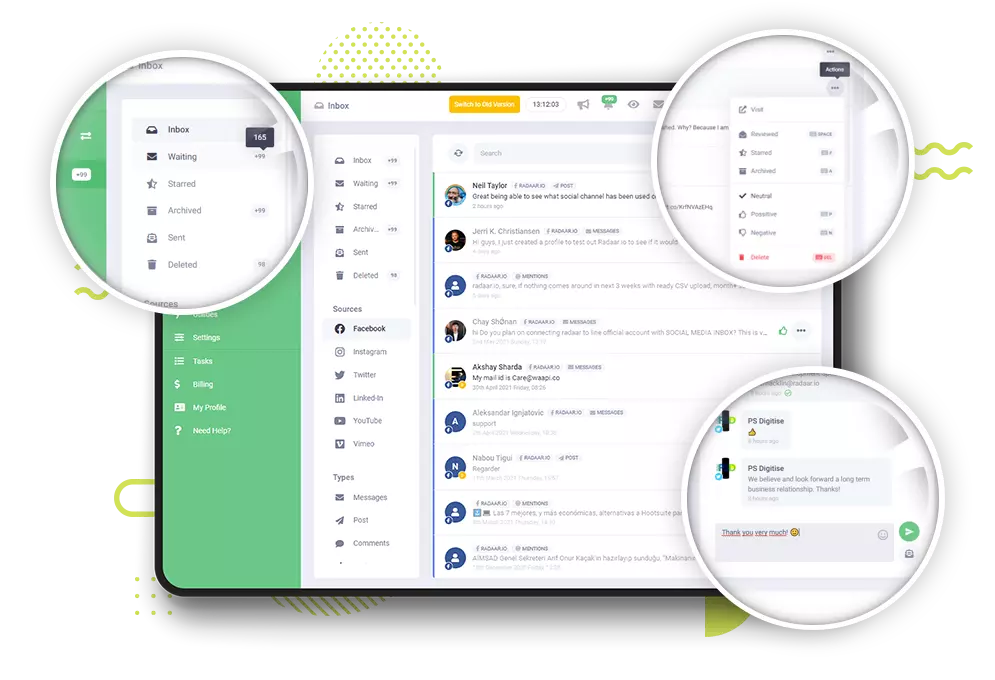 GROW YOUR BUSINESS
WhatsApp provides a fascinating experience between you and your customers...
Our Twilio (WhatsApp Business) integration allows you to communicate rapidly, privately, and extremely easily, which helps your business grow.
TRY IT FOR FREE
SOCIAL INBOX
Respond to your customers in real-time!
You can use your WhatsApp Business number through Twilio and RADAAR together to stay in touch with your customers and follow them closely.
LEARN MORE
FREQUENTLY ASKED QUESTIONS
All answers so you can stay engaged...
If you still have questions about Twilio and WhatsApp Business, we have put together the FAQs for you.
WhatsApp is a globally used, free, messaging software that enables you to make video calls and voice conversations, send text messages, and more.
Twilio Frontline is a mobile application that enables digital relationships connections across phone and message to increase the effectiveness and results of sales. Twilio is used for developing enduring relationships with customers by integrating the app with any CRM or customer database.
Twilio sends a webhook (a request to a URL that you specify) to your application whenever a user sends you a WhatsApp message. On the Sandbox tab of the Twilio Console, you can set the URL to which Twilio sends a webhook when it receives incoming messages.
WhatsApp that offered for businesses named WhatsApp Business. You can showcase your product catalog, provide a company description, display your business name, logo, category, website URL, and set working hours on WhatsApp Business.
Go to Messaging and then Senders. After that select WhatsApp Senders in the Console to manage your own templates and WhatsApp profile. The list of your Twilio phone numbers (senders) that support WhatsApp is displayed here, along with any templates you have submitted for approval.
By selecting Get a Trial Number, you can receive a free Twilio phone number after registering for a free trial and verifying your contact details. You can test your applications using the free number that Twilio will suggest.
PRODUCT TRAINING
How to connect a Twilio WhatsApp Business Number?
With RADAAR's Social Inbox feature you can manage and reply your incoming WhatsApp messages.
WATCH NOW
RELATED BLOG POSTS
All the tips & tricks you'll need...
Get the fresh tips and tricks you'll need to ace social media marketing.