Create your own Discord and Slack Bots with Webhook (Outgoing)...
You can create your own bots on Discord and Slack via outgoing webhooks. RADAAR allows you to schedule and publish the content on every platform which support incoming webhooks.
LEARN MORE
SEE HOW IT WORKS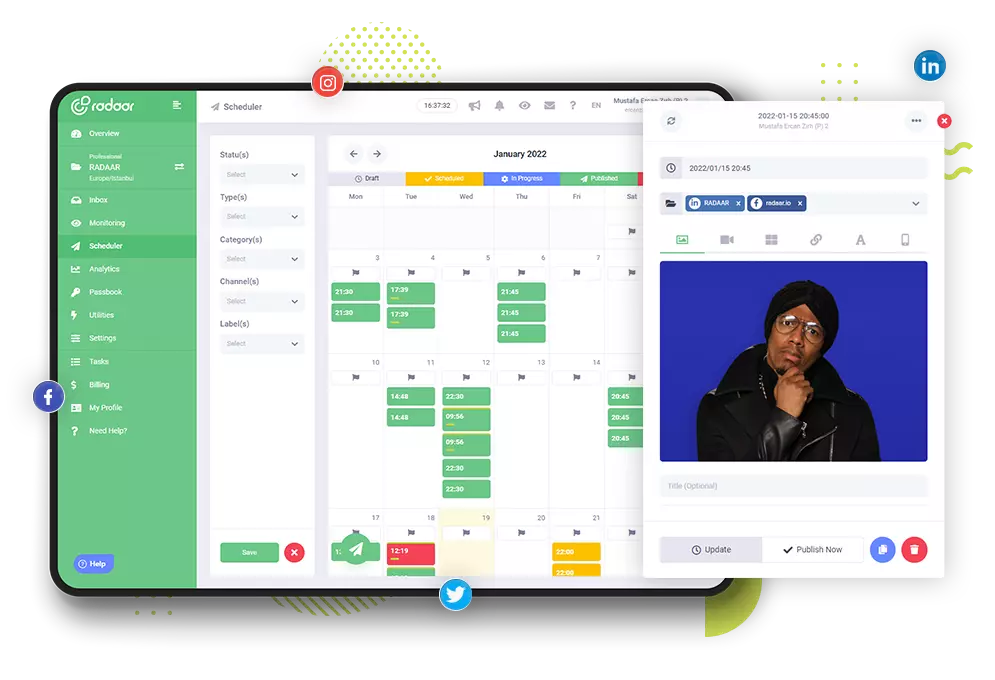 CONTENT PUBLISHING
Schedule your content on every platform...
You can simply plan your content publishing strategy without any hassle and save bunch of time.
TRY IT FOR FREE
SCHEDULER
Plan your content ahead of time and RADAAR posts them to platforms you wanted for you...
When you use RADAAR's Scheduler, you will be able to automatically publish your content on any platform via Webhooks (Outgoing)!
LEARN MORE
FREQUENTLY ASKED QUESTIONS
Everything you need to know for Webhook (Outgoing)...
Check out the FAQs if you have any other question about outgoing webhooks!
A Webhook is a simple API that enables incident, one-way data sharing. They provide the web more than the sum of the parts by enabling programs to share data and functionality.
When it comes to webhooks, first you should get the webhook URL from the application you want to send data to and then use that URL in the webhook section of the application you want to receive data from.
Webhooks, which are a feature of Discord, make it simple to send automated messages and data changes to a text channel on your server.
Slack messages from apps can be easily published via incoming webhooks. You receive a special URL when you create an incoming webhook to which you can send a JSON payload including the message text and a few settings. With Incoming Webhooks, you can use all the customary formatting and layout blocks to make the messages stand out.
PRODUCT TRAINING
How to create an outgoing webhook?
You can use RADAAR's webhooks to publish content to external services using JSON packets.
WATCH NOW
RELATED BLOG POSTS
All the tips & tricks you'll need...
Get the fresh tips and tricks you'll need to ace social media marketing.