Inspire your audience with Pinterest...
Pinterest is an inviting visual discovery engine. Through "pinning" images or movies to their own or others' boards and viewing what other users have pinned, users can visually share and discover new interests. If you are a small business owner, you can use Pinterest for Business to make sales directly on the platform.
LEARN MORE
SEE HOW IT WORKS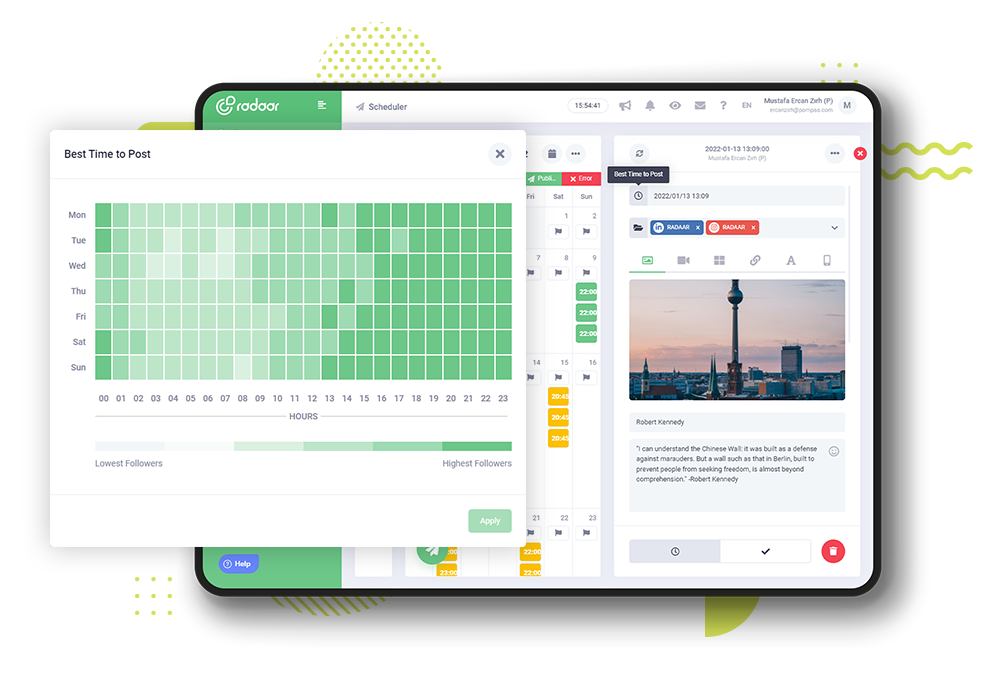 BUILD BRAND AWARENESS
Keep your boards looking nice and inspire your potential customers...
Take your brand awareness to the next level on Pinterest by using RADAAR to schedule your pins. Learn more about RADAAR, sign up for a free trial, or get help about our features for your business.
TRY IT FOR FREE
FEATURES
Easily manage all the pins on your board...
Check out our amazing features to handle your Pinterest like a professional!
FREQUENTLY ASKED QUESTIONS
What's there is to know about Pinterest...
Check out the FAQ's that we've prepared for you if you still have any questions about Pinterest!
Pinterest is a visual search engine allowing users to browse and curate photos and videos.
Go to Pinterest. Sign-up. You'll receive a welcome to Pinterest message, select next and answer the setup questions. Select Done. Confirm your account from your e-mail. You are now ready!
Search and find the image you want to save then right-click on the picture, select Save Image and choose the folder where you want to save your image and click on Save.
Pinterest is a social media platform where you may gather and share photographs of whatever interests you. You can also visually find new interests by browsing other Pinterest users' collections.
Open your menu, click settings. Click Account management from the left-side navigation. Under account changes find and click. delete account. Click continue then click send mail to receive an email to delete your account. Confirm your mail and you're done!
Log in to your Pinterest account, click + icon and select Create a Pin. Drag and drop to upload your image. Add a title, description and a destination link. Select a board you wish to save to or create a new board by clicking Create board.
PRODUCT TRAINING
How to connect a Pinterest board?
You can schedule and publish content to Pinterest, in addition to Facebook, Instagram, Twitter and LinkedIn.
WATCH NOW
RELATED BLOG POSTS
All the tips & tricks you'll need...
Get the fresh tips and tricks you'll need to ace social media marketing.