An easier way to increase engagement on Twitter...
Save time and engage with your followers as you strengthen your Twitter marketing strategy by scheduling tweets with RADAAR.
LEARN MORE
SEE HOW IT WORKS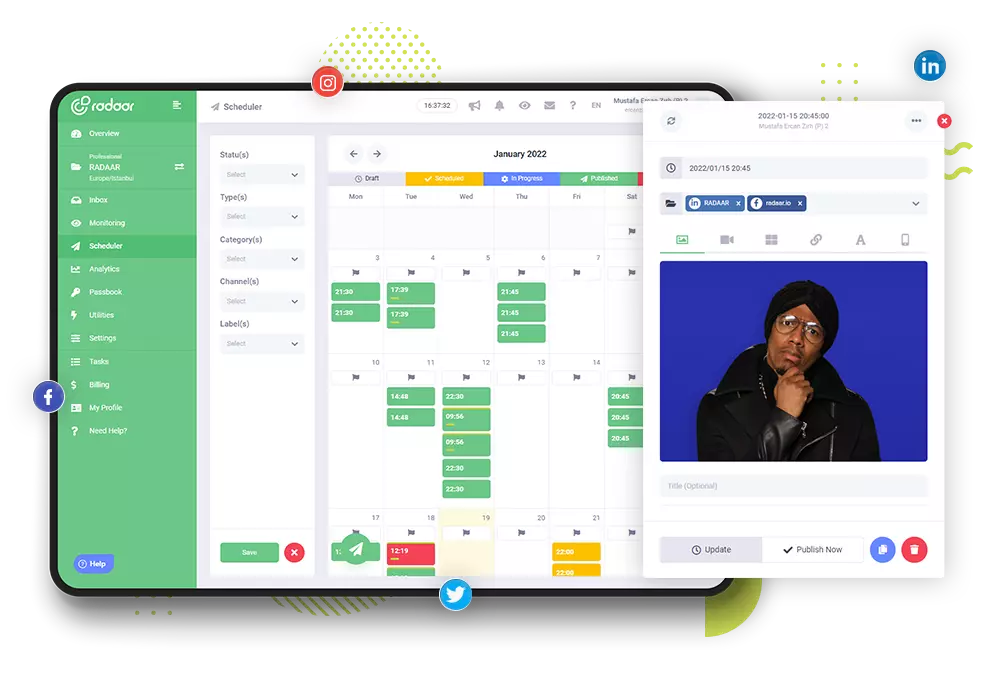 GROW YOUR INFLUENCE
Share, engage, track, analyze, improve...
RADAAR is an amazing social media management platform for startups, small and medium-sized enterprises that want to engage with their followers, publish new content, and track their Twitter success.
TRY IT FOR FREE
FEATURES
See what you can achieve by using RADAAR and Twitter together...
Keep your Twitter profile alive and up-to-date by sharing amazing content, seamlessly engage with your followers via your Social Inbox and track all your Twitter activity with RADAAR.
HASHTAG MANAGER
Make sure you're using the proper hashtags for your content!
With the Hashtag Manager feature, you can find the most suitable hashtags for you and your brand in seconds and make your Tweets more discoverable.
LEARN MORE
CHAIN COMMENTS
Sometimes we need more than one Tweet...
A thread on Twitter is a series of connected Tweets from one profile. By using RADAAR's Chain Comment feature, you can say whatever you want without worrying about Twitter's character limit!
LEARN MORE
FREQUENTLY ASKED QUESTIONS
Everything you need to know about Twitter...
Manage your Twitter with the most accurate methods without any question marks in your mind.
Twitter is a social networking and website where users post short texts, up to 240 characters, known as tweets. Tweeting is sharing short texts to anyone who follows you on Twitter.
Click the profile icon in the upper right corner and select Settings & Privacy. Then, in the Account tab, scroll to the bottom of the page and click Deactivate Your Account. Lastly, enter your password and click the Deactivate Account button to confirm your deactivation request.
Sign in to Twitter and then go to the Settings page. On the page you open by clicking the small profile picture icon in the top right and then Settings & Privacy, select Privacy & Security from the left menu. Then check the checkbox that says Protect My Tweets.
To be verified on Twitter, you must first verify your identity. You also need to have a significant presence on Twitter or outside, and of course, an active Twitter account. You can then submit your verification request.
On your computer, visit https://analytics.twitter.com/ and click on Tweets. In the Twitter app for iOS or Android, tap the analytics icon visible in your Tweets. Make sure you have installed the latest version of Twitter for iPhone, iPad, or Twitter for Android.
Go to Twitter and click on the person icon at the top of the screen, then select Settings and Name at the bottom of this page. Finally type in your new name and save.
PRODUCT TRAINING
How to create your own Twitter API app?
To connect a Twitter profile to RADAAR you need to bring your own API Key. In this video, we'll go through how to set it up.
WATCH NOW
RELATED BLOG POSTS
All the tips & tricks you'll need...
Get the fresh tips and tricks you'll need to ace social media marketing.