Build long-lasting relationships with your customers through Facebook Groups...
Facebook Groups are an effective marketing strategy for attracting new customers and engaging current ones through exclusive content and support. Having a Facebook Group gives your business another opportunity to create credibility. Use RADAAR to save time and engage with your customers while managing your Facebook group.
LEARN MORE
SEE HOW IT WORKS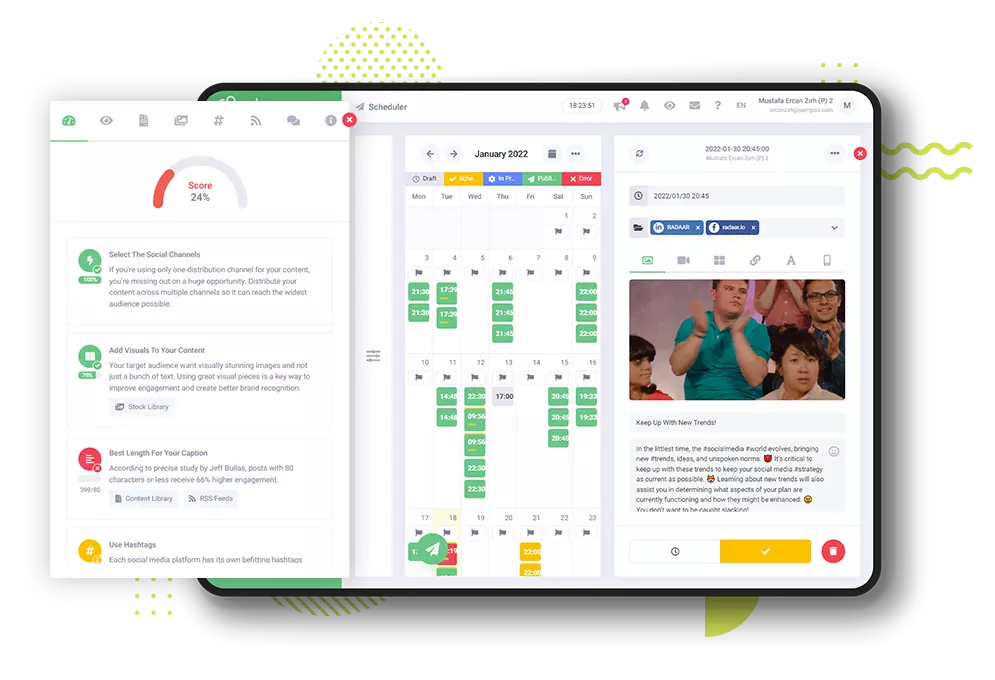 GROW YOUR BUSINESS
It's time to create a Facebook Group to grow your business...
A Facebook Group's advantage is the relationships it builds. Use RADAAR and see for yourself how easy it is to manage! Learn more about RADAAR, sign up for a free trial, or get help about our features for your business.
TRY IT FOR FREE
SOCIAL MEDIA SCHEDULER
Make it easy to share content to your Facebook group...
Creating and publishing content has always been challenging. With RADAAR's powerful Scheduler feature you can now plan your Facebook group feed and schedule posts ahead of time.
LEARN MORE
RSS FEEDS
One stream for all of your content sources...
You can effortlessly find insightful articles and news in a single stream and post it to your Facebook group.
LEARN MORE
FREQUENTLY ASKED QUESTIONS
Every question you have regarding Facebook Group is answered here...
If you still have questions about Facebook Groups, check out the FAQ's that we've prepared for you.
A Facebook group is a page created to promote the activities of an organization or business. Users can join the group and post their thoughts on a wall, as well as interact via discussion threads.
Select your group from the left menu of your Feed by clicking Groups. Click See more if you don't see Groups. Near the top of the page, click the box next to your profile image and post whatever you want.
Facebook Pages are a sort of business profile for corporations, organizations, and public figures on Facebook. Their goal is to establish a connection with their target audience/community. Facebook Groups are designed to bring people together around a shared interest. Their goal is to provide a platform for people to interact with one another.
To create a Facebook Group, click the plus sign that is in the top right and select Group. Enter your group name and choose a privacy option. Add people to your group and click create. That's it! You can also personalize your group photo and cover picture
If you are the admin, delete all members till you're the only one remaining. Select More > Leave Group next to your name. Facebook will notify you that this action will result in the deletion of the Group. To confirm, select Delete Group.
A group can be extremely beneficial to a new or small business looking to establish a presence, especially if you sell niche products.
PRODUCT TRAINING
How to create a recurring post?
A recurring post is a social media post that is repeated on a specific platform. RADAAR's Recurring Post feature lets you repeat posts.
WATCH NOW
RELATED BLOG POSTS
All the tips & tricks you'll need...
Get the fresh tips and tricks you'll need to ace social media marketing.